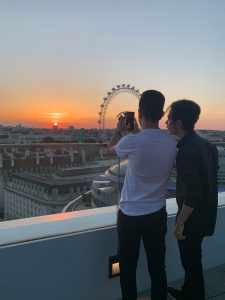 As the sun sets on the final day of this boarding year, it felt like a good opportunity to reflect on what an incredible year this has been. Thankfully, we have avoided lockdowns, seen the scrapping of quarantines and the relaxation of masks, all things which have afforded us the opportunity to make the most of boarding life once again, and we have certainly done that.
I tried to count the theatre trips and ran out of fingers! We have been paintballing, Go Karting, we even went to a cat café! There have been bucking reindeers in the centre of the Atrium, Bagpipes in the Global Kitchen, midnight visits from the Easter bunny in the Boarding House. There have been half term carnivals, Great London Bake Offs and sunsets on the 18th floor. We have been at the heart of the historic Platinum Jubilee celebrations and cheered on teams at Wembley and in our very own Eurovision Fever!
Last week we celebrated National Boarding Week with the theme 'One Boarding Community'. Whilst that was indeed a special week, this is a theme which runs through the heart of DLD Boarding. With 58 different nationalities and so many differences, the one thing we all have in common, is that this has been home for us all. So, we celebrate the laughter, the joy, and the growth we have all experienced this year and from this 'One Boarding Community', we wish you all a spectacular summer.  See you next year!
Shirley Mitchell Director of Boarding