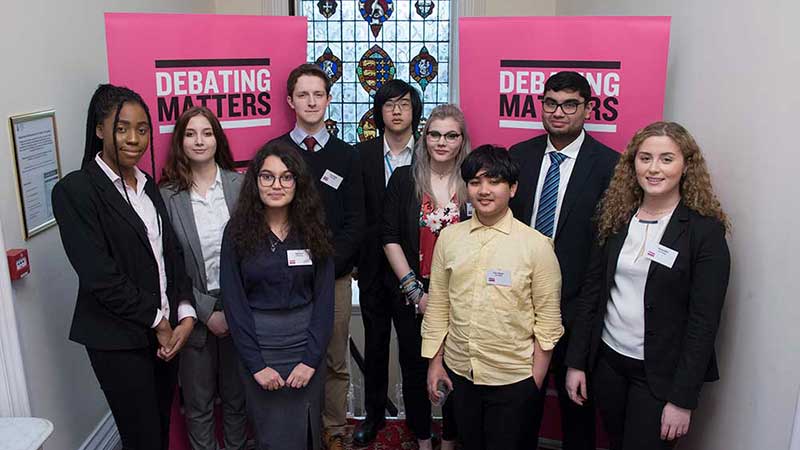 DLD College London recently took part in the Debating Matters Championships, one of the most prestigious debating competitions in the UK, at St Mary's University, Twickenham. Twelve schools battled it out for the crown of Debating Matters London South Champions. They tackled a number of difficult topics throughout the day.
Our team were made up of 6 debaters and 3 understudies. Shafiq, our resident Economics expert, used his knowledge to prepare the students as much as possible. His job was to question them and ensure they were ready to counter the ideas of their opponents.
In our first debate on Sport, Vikas and Nada bravely took on Putney High School. They spoke clearly, listened to their opponents and challenged their ideas with real energy and purpose. They then went off to help our second set of debaters prepare, Alessia and Clara.
The second debate on Economics was very tough and the girls of Ursuline High School were certainly well prepared. Our girls fought really well, with Alessia later receiving a special mention from the organisers of the event for her individual performance.
After lunch we gathered nervously to hear the results and were absolutely thrilled to have made through to the Semi-Finals! Conor and Geoffrey argued passionately on the topic of Online Privacy and were very unfortunate to lose.
This was the first time DLD had entered the competition and the team can feel very proud of their success, coming very close to making the final. Despite losing, our students were determined to stay and watch the final, showing just how willing they were to improve themselves as debaters.
It was a fantastic day for the college, the students had a fabulous time and learnt so much. The future of debating at DLD College London looks very bright indeed!