Yesterday DLD partnered with Goodnotes, (Apple iPad App of the Year 2022) to host an event launching their research report on Generative AI in Schools. The launch was well attended with representatives from Eton College, Oxford University, UCL, Women in AI and many more. Artificial Intelligence (AI) is being increasingly integrated into the field of education around the world, offering opportunities to enhance and personalise learning experiences for students. DLD A level student, Vlad confidently presented his views on AI, how he believes it could positively impact students learning experience and his ambitions for a career in AI in he future. Vlad was a real credit to DLD and drew plaudits from visiting principals on his calm and knowledgable presentation.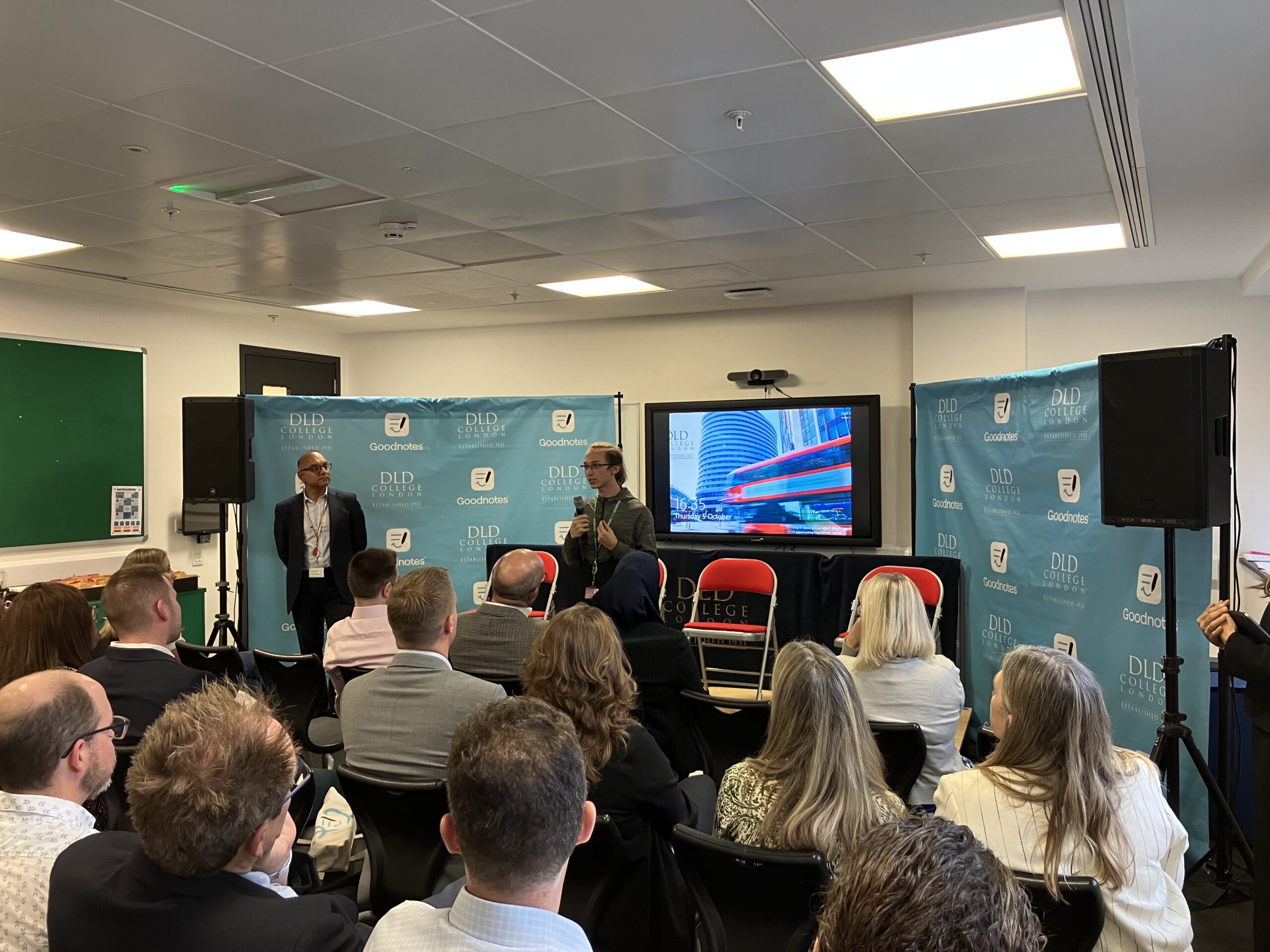 Reflecting on the event, Daniel Emmerson, Academic Affairs Lead at Goodnotes commented: "We are so pleased to be working alongside DLD College London as part of this initiative. Irfan Latif and his incredible team are truly committed to preparing the next generation for the future, and it is so fitting that we shared our research on Generative Artificial Intelligence in schools at DLD."
DLD Principal Irfan Latif said "Artificial Intelligence has the potential to revolutionise teaching and learning as we know it. By using AI-powered tools and strategies, teachers can personalise learning, improve student outcomes, and better prepare students for success in the ever evolving digital economy. DLD College London was thrilled to collaborate with the award winning edtech company, Goodnotes yesterday for the launch of their important research findings on the impact of 'Generative AI in Schools."
Goodnotes goal when conducting the research was to understand the profound technological shift that GenAI will bring to every aspect of life, learning, and work. Through interviews and discussions with various stakeholders, they aimed to capture a holistic view of GenAI's role in education. The report stands out as it features contributions, reflections and ideas from a truly wide range of over 50 contributors, each offering a unique perspective on the challenges, trends, barriers, and solutions related to GenAI in school communities around the world.
‍‍Key Findings
AI Replacing Teachers: Initially, there were concerns about GenAI replacing teachers. However, we found a consensus that this scenario is unlikely and undesirable.
Academic Integrity: While concerns about students using GenAI for dishonest purposes were raised, we must acknowledge that academic dishonesty is not new. GenAI simply presents a new means of doing it, while challenging standard conventions in teaching and learning.
Limitations and Challenges of GenAI: Besides transforming teaching methods, GenAI brings challenges like potential data breaches, the spread of misinformation, and the risk of social isolation, if it is not implemented safely.
The transformative potential of GenAI in reshaping our lives, learning, and professional spheres is undeniable. However, a significant number of young learners may miss out on this transformation due to a lack of emphasis on GenAI in their educational institutions. The Goodnotes report serves as a call to reimagine teaching and learning practices and encourages readers to disseminate and apply their knowledge, skills and experience in a sector-wide approach.
You can access the report here.