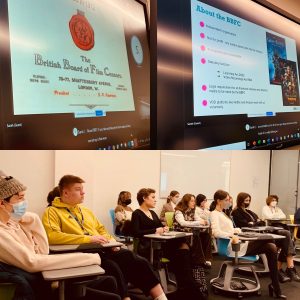 On Monday this week, Sarah Peacock, Compliance and Education Manager from the British Board of Film Certification, spoke to our Film and Media students virtually about the work of the BBFC.
Sarah, very kindly, spoke to them about the reasons why the films they are currently studying had received the ratings they had, the process behind awarding a film a 12A or 15 certificate and how their role is changing with the emergence of video on demand.
Sarah was able to add to the students understanding of the film industry that they can utilise in their studies.
Marie Kerrigan, Head of Film and Media