Congratulations to Year 11 GCSE Art & Design student Annie, who has won a Lower School Art Competition for the first half term, with her charcoal drawing of the sealife being polluted by rubbish. She explains:
'I want to communicate a strong message that we need to protect the sealife and provide the animals with cleaner water. We should treat the animals like we treat ourselves and think about consequences before we throw rubbish and toxic waste into rivers and seas.'
Another congratulation goes to Year 11 GCSE Art & Design student Zemfira, who won second place in the competition with her imaginative pen and ink drawing of one eye with make-up and one without, representing how humans are affected by things they invented.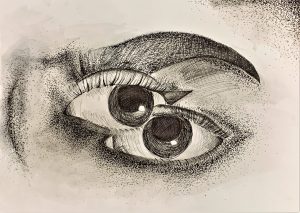 Ljubinka Jeftic, Art and Design Teacher