After yesterday's industry centered day, today our Business Studies students' focus was very much about exploring rural business activity and indeed having fun in the ski resort of Zakopane. Zakopane roughly translate to 'dug up', as this community living on the mountain had been buried under the snow for centuries.
Alongside its ski jumping heritage, the town is known for its construction ability, with many of the early locals resettling in Chicago in search of a new start in the West.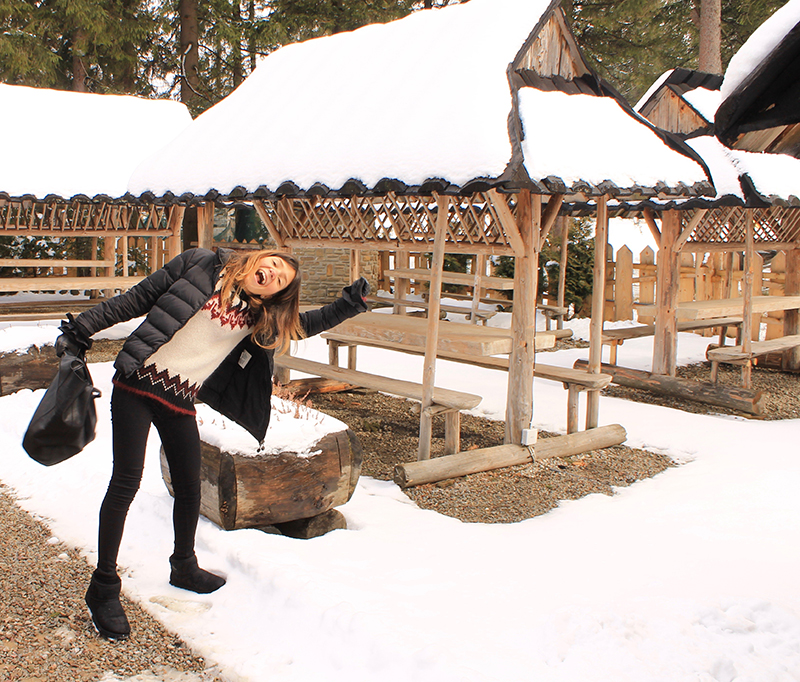 Our first stop of the day was to the top of the ski jump via a cable car ride. I am very certain that the whole group were in complete awe of any person daring enough to attempt this jump. Standing at the top of the snow covered slope was enough for us – particularly trip leader Stephen, who must have felt light-headed given his fear of heights!
The group, although impressed by the ski jump were also rather distracted by the presence of snow. Snow balls were being tossed left, right and centre the entire day. My personal highlight of the day was building a snowman with my peers. Although for most of us, such activities were a part of our childhood, for Ha (from Vietnam) it was not only her first time building a snowman but also the first time she saw real snow. Her face was priceless, reminding us all of our own excitement during our first encounters with the snow.
Lunch was organised by our tour guide, Isabella. She was on a mission today to introduce the group to traditional Polish dining, and boy did she succeed! After a short drive down the mountain we arrived at a small wooden cottage, that used small pieces of timber in-between the main structure to help insulate the cottage. Upon entering through a cute, hand carved door reminiscent of Bilbo Baggins' home, the group was welcomed to the small restaurant by an array of stuffed and skinned animals. Jasmine felt particularly distracted by the skinned wolf that hung diagonally across from her! After the traditional and very filling lunch of mushroom soup and traditional potato pancakes, the group crawled back onto the bus – tired from an energetic day. The two-hour bus ride back to the hotel was spent with all members of the group fading in and out of varying stages of sleep.
Tomorrow we will be visiting the World Heritage site of Auschwitz Birkenau and the Wieliczka salt mine.
Darcy Jack