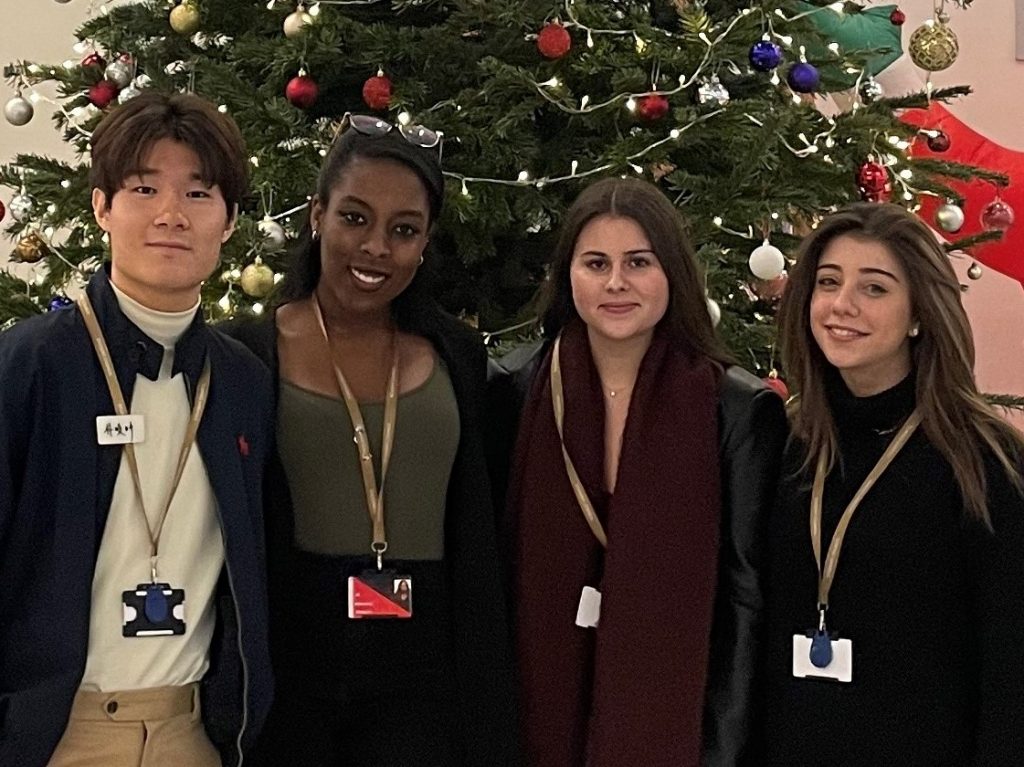 Earlier last week, Jessica and I were asked to write the From the Principal for the final time, and I was surprised to find that it had been a year since we had taken on this role together! I was shocked at how quickly this time of year has come around again, but it has also made me reflect – and I wanted to take this time to share some of the highlights from this year.
The Charity Team of myself, Benita and Gabriela, have been working every month with local and national charities to bring social awareness to students and to provide opportunities for completing the volunteering section of The Duke of Edinburgh's Award. We have had a Winter Coat Drive for WrapUp London over the winter term, a Doughnut Sale in collaboration with the Inclusion and Diversity Lead, an annual food drive for Waterloo Foodbank, and the upcoming Book Club initiative to provide books for the Children's Book Project, as well as many more. I believe the students' and staffs' favourite event was in aid of Evelina London Children's Hospital last summer in celebration of finishing our exams. We had a mixed Netball game in Archbishop's Park, it was a fun experience and the players had as much fun as the onlookers!
Charlotte, Head of School & Head of the Charity & Community Team
This year the Academic Team has been working hard to ensure that the learning experience for all students has been both enriching and unique. From the first meeting we held, we established some goals for ourselves and envisioned what we wanted to leave behind at DLD. However, our main objective was to try and make it easier for DLD students and to share our own knowledge with the rest of our community. In particular, we hoped to achieve this by running an Academic Drop-In Clinic which has allowed students to ask for help around exams and to discover the best study techniques. We hope to have helped students grow closer to achieving the grades they wanted with mocks over. It has truly been a fulfilling and rewarding experience leading the Academic Team and working alongside Natalia and Sonya. I can confidently say that during our time on the Student Council we have learnt so much through the various courses we completed, such as the Dyslexia course and the Coaching training. Although our time on the Student Council is drawing to a close, we are looking forward to welcoming and guiding the new Academic team in building their own legacy.
Jessica, Head of School & Head of the Academic Team
The Wellbeing Team has been working on improving the overall mental and physical health of students throughout the year, by introducing the Wellbeing Drop-In sessions three times a week. There, students can share with members of the Wellbeing Team their overall experience at College, an issue they might be experiencing, or any ideas they are willing to suggest. It was a week of fun and laughter when we also celebrated Anti-Bullying Week, by having an "Odd Socks Day" at school and encouraging everyone to be themselves and spread awareness of our core values of tolerance, respect, and kindness towards each other. We acknowledged our friends, peers, and colleagues by saying "One Kind Word" to them that day. We also hosted workshops such as those on "Substance Abuse" and have prepared to introduce more in the upcoming months. Working alongside Tobia, FeiFei and Myles, I have found this year to be a truly amazing and valuable experience in which we all shared and collaborated with each other, becoming an integral part of the big DLD family.
Petya, Deputy Head of School & Head of the Wellbeing Team
With the unfortunate Covid-19 pandemic, the Events Team comprising Noelle, Kirsty, Jason and myself, have found it very difficult to organise events within the school which meant we had to be very versatile and adapt to the changing restrictions. It was still important to us that we maintained a sense of community and created activities for everyone to enjoy. Therefore, during the time of the pandemic, various whole school quizzes were held and outdoor sports events. However, with restrictions gradually being lifted, we could reintroduce many of our much-loved events such as the Halloween Party and the Christmas Party, where we had a rodeo reindeer and festive treats. We are so excited to announce that after two years we will be holding out first Summer Ball which we have been rigorously planning and working towards. Since 2022 will be the first Summer Ball after the pandemic, our team is trying our very best to provide unforgettable memories for the students. Apart from the Summer Ball preparation, we are also looking into the possibility of organising small events in line with the school schedule.
June, Deputy Head of School & Head of the Events Team
We are so excited to announce that applications for the new Student Council are officially open and we hope to see many of you apply. If you have any questions, feel free to come and speak to any members of the Student Council who are equipped to assist you with any queries you may have.
Good luck everyone!
Jessica, Charlotte, Petya and June, Heads & Deputy Heads of School