This autumn Surfers Against Sewage has lead more than 460 beach and river cleans across the UK, involving more than 15,000 volunteers
SAS estimates that more than 35 tonnes of plastic pollution has been removed from the environment
This year Surfers Against Sewages has organized its biggest Autumn Beach and River Clean with 15,000 volunteers cleaning more than 400 beaches and 60 rivers across the UK, including riverside green areas & riverside neighborhoods in London, tackling plastic pollution before it reaches our coastlines.
As part of this campaign, last Saturday DLD College London hosted a litter picking event in Lower Mash and Waterloo Millenium Park, with students volunteering in the clean up. The event was also supported by the London's Royal Docks Learning & Activity Centre who provided part of the equipment for the clean up.
DLD College London is committed to helping improve the lives of all those that share the same community space as the college. This year the student council formed a Community Projects group which is led by two Year 13 Students (Cody O'Connor and Sofia Papadhopuli) and support by Gareth Evans (Director of Studies). The cleanup event was the inaugural event for this group with lots more exciting plans for the year to be announced in due course.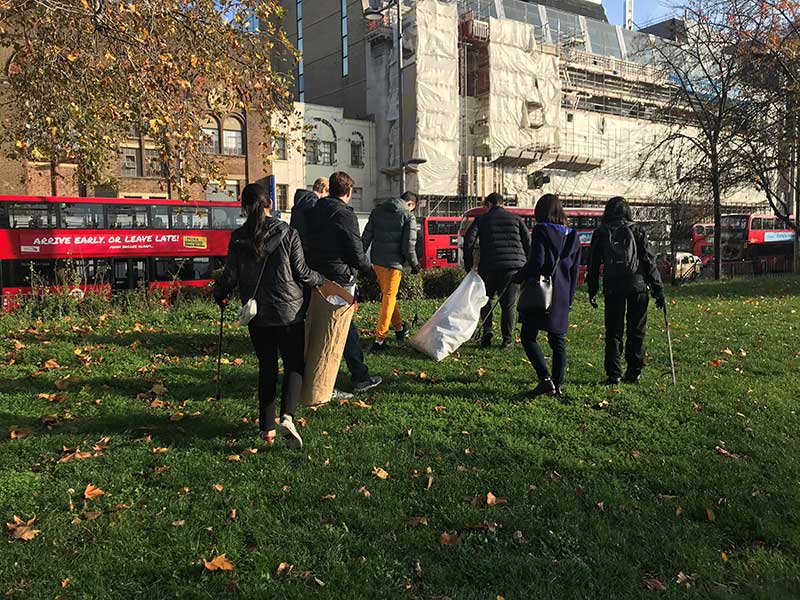 Since its launch in 2011, the Surfers Against Sewage Autumn Beach & River Clean up has seen over 28,000 volunteers remove 80,000kg of marine plastic pollution (the equivalent of over 19,500 bin bags) at 932 Autumn Beach Clean events.
This year is more important than ever as the Government is planning to introduce a Deposit Return Scheme – a system where every plastic drinks bottle and can be recycled and we create a circular economy. This has been hugely successful in Norway and parts of the US and has been the result of lots of campaigning by Surfers Against Sewage and others.
SAS are pushing for a world class scheme that includes ALL bottles and cans as these are the items found on our beaches.
Surfers Against Sewage (SAS) – www.sas.org.uk
SAS is a national marine conservation and campaigning charity that inspires, unites and empowers communities to take action to protect oceans, beaches, waves and wildlife.