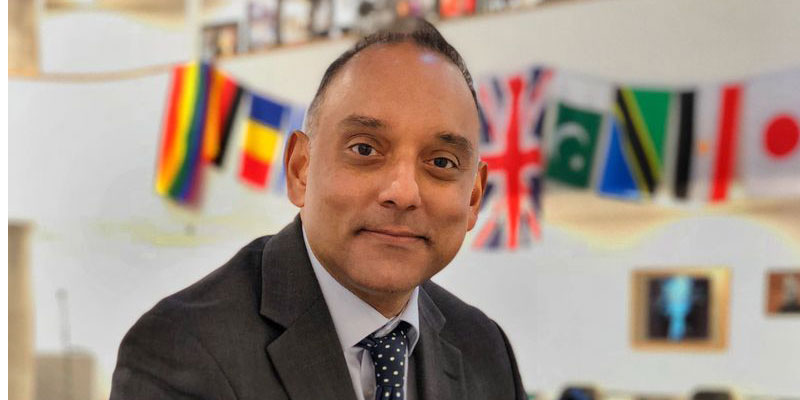 'Nowruz Mubarak!' or 'Happy Persian New Year' to everybody. The College proudly celebrated Persian New Year this week. Our Iranian students organised a 7Seef table in the Atrium, explaining its cultural and historical significance. They also organised a traditional Iranian banquet in the Refectory in conjunction with the College Chef. It was a great occasion and an important one where we learnt about another culture and one where the college community came together, much like Chinese New Year last month. Opportunities to celebrate our differences and the rich cultural diversity we have at College, it is so important as it will only help to reinforce our values of tolerance, respect and kindness, breaking down barriers.
These values were clearly in evidence as we waved off our two Y12 students, Tia and Dasha who flew to Auschwitz in Poland on Wednesday as College representatives and guests of the Lessons From Auschwitz organisation. A great opportunity for them and an experience, I am sure, they will never forget.
There was much activity on the College's various social media feeds after our work with CNN last week, the US universities seminar with Quintessentially Education and Olympic hopeful Clieo Stephenson coming into College. Clieo is training with Team GB for a place at the Tokyo Olympics in 2020, she spoke with great enthusiasm and energy to our students and the importance of planning ahead and achieving one's goals. She is training for the 100m and her schedule is punishing! We wish Clieo all the best in her endeavours and do keep an eye out for her; she is a future star! This week social media seems to be under the spotlight. Data is the new oil, and with the scrutiny and pressure that the social media giant Facebook has come under this week, it is astonishing how much of our personal data is out there. Shouldn't Facebook, Twitter and the like be keeping our data safe?
We constantly post on social media both as a school and as individuals (it's a great tool to keep in touch with loved ones and with friends and family abroad) and it is a force for good, connecting communities, sharing information and for bringing about change. But when the data is harvested and then allegedly sold on to possibly influence the course of democracy, we need to look very closely at these internet behemoths. It is important that they are held to account with tighter regulation and defined protocols imposed on them. Being sensible and managing your digital footprint wisely is now more important than ever.
Speaking of protocols, we welcomed our Governors to College on Monday where their regular quality assurance visit looked at various aspects of College life. We are working hard to continue to make improvements and further drive up standards in areas such as learning and teaching, pastoral care, boarding, eLearning, extracurricular activities and student experience and I thank the Governors (our critical friends) for their wise counsel, suggestions and constant encouragement. I am writing this week's 'FTP' from Helsinki in Finland where I am waiting for my connecting flight to Riga in Latvia where I will be meeting with some of our agents and prospective parents – does Facebook know that I am here?
Best wishes,
Irfan H Latif
Principal