Students celebrated the end of their academic year with the sixth annual DLD College London Summer Ball. The event was held at the Gibson Hall, a spectacular Grade I listed neo-classical building, located in the very heart of the City of London.
The students arrived at Gibson Hall and enter through the stunning gardens to a drinks reception, the incredibly dressed guests looked wonderful for the black tie themed event.
Students posed for photographs with the glamorous Vegas showgirls and a magic chick wowed everyone with her incredible tricks. Also enjoyed by all throughout the evening was a pop-up photographic studio which was equipped with fun props and had unlimited photographs for students to take away with them.
A delicious three course dinner was served in the Banking Hall, which was once the largest of its kind in London. The four Ladies and four Lords in waiting, Royal Court 2017, were announced and presented with rosettes. This was followed by an amazing choreographed unique performance by the Vegas showgirls which added an air of glamour and sophistication to the evening.
In-keeping with tradition, a Valedictorian was announced and the Prom King and Queen were crowned.
Imran Isa-Dutse, (18), was honoured to be named Valedictorian. He commented: "I am glad that DLD is teaching us to be independent learners, because we live in a world ridden with conflict. There is not enough love, understanding and compromise. "The multitude of opportunities out there are ours for the taking, as long as we strive for them and stand by our decisions. As we all go off to university, or wherever any of you choose to go after this year, we should all remember that we are global citizens; and that each of us has a say in the world we live in, the world we want to create and the future we want to see made possible. I think it is essential for all of us to work together to make that vision a reality."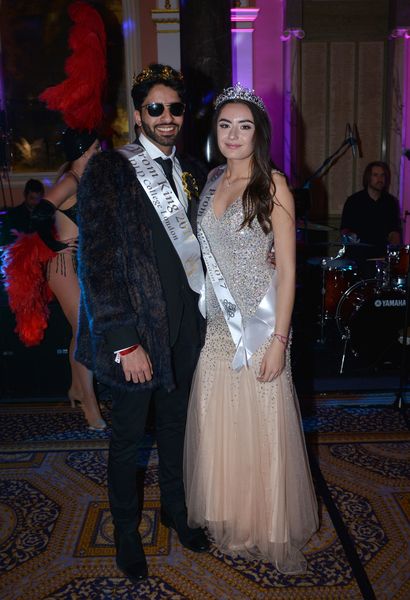 Zane Thadani, (18), and Yasmine Adams, (18), were then crowned Prom King and Queen by the Vegas Girls, whilst their classmates cheered. The students danced the night away to Pop London, who are a band that performed a fresh and exciting show with a great set list of dance floor fillers.
Principal at DLD College London, Rachel Borland said: "The Summer Ball was a great event and it is so important we offer the students this chance to celebrate the end of a year of hard work and commitment. They all deserve it and looked incredible."