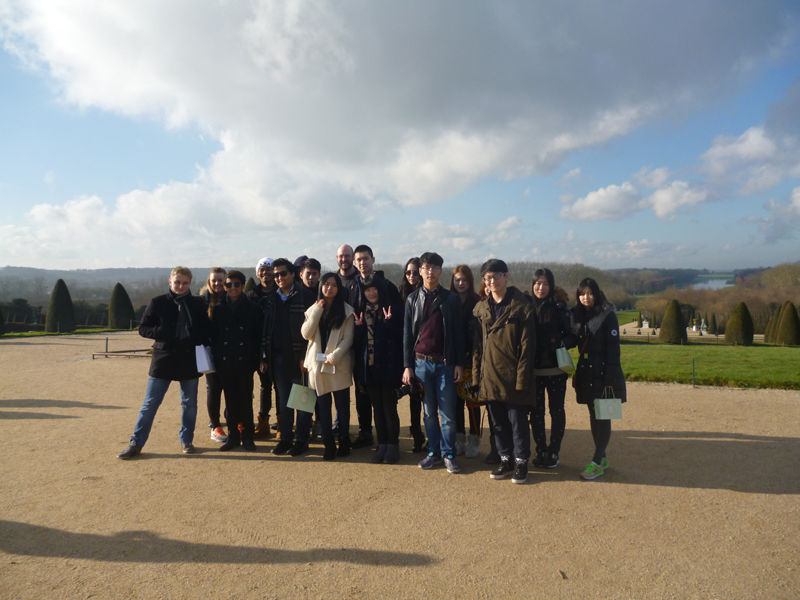 This January 17 students and 3 teachers from DLD College London had a very exciting and enjoyable trip to Paris, France.
For three days we explored what art, culture, fashion and food Paris had to offer!
We arrived early on a Friday afternoon and after a quick lunch visited the iconic Eiffel Tower. After countless selfies were taken we took a river boat cruise along the Seine, this gave us a glimpse of what Paris had to offer making us very excited for the weekend ahead! After a very traditional French dinner of onion soup and crème brûlée we had an evening of bowling and arcade games, in the bowling Bello was crowned victorious beating all the teachers, with Ray and Flora in at a close second and third!
On day two we had an early start with breakfast in our hostel before travelling to the extremely foggy and cold French suburb of Versailles. On our arrival we were greeted by the extremely impressive and my personal favourite of the trip, the Palace of Versailles. This is where Louis XVI and his wife Marie-Antoinette lived before the French Revolution. We saw the famous room, 'The Hall of Mirrors' and others that were ornately decorated with Greek and Roman Gods symbolising the strengths and virtues of the French royal family. The gardens were equally impressive, spanning 800 hectares; unfortunately we didn't have time to explore all of them! After visiting Versailles we had a lunch break and some time to do a bit of shopping back in central Paris. Later we visited a well-known chocolate factory in Paris to learn about the origins of drinking chocolate with the Aztec's and how chocolate was brought to Europe by Cortes. After learning all about chocolate and watching a demonstration on how it is made we were very pleased to get a chance to sample some, even some chili hot chocolate!
On day three we visited the Louvre museum to see the fantastic artwork on display, including Da Vinci's famous Mona Lisa. After some lunch and shopping we walked to Notre Dame Cathedral, passing the romantic 'love-lock' bridge. Notre Dame, made famous in Viktor Hugo's, 'The Hunchback of Notre Dame' was extremely impressive with its beautiful stained glass windows and Gothic architecture. On our final day we wanted to do something a bit different and not necessarily Parisian so we took the students to 'Mystery Escape'. This is a live escape game developed from a Japanese online game were you have to decipher riddles and clues to find a key so that you can escape the room, all within 60 minutes! This was really fun and allowed the students and teachers to work together in teams to crack the clues, three of our teams escaped with minutes to spare and unfortunately one group was beaten by the game! Overall both students and teachers had a fantastic visit to Paris and we can't wait to go back again!
Gemma Deane
Business Studies and IFP Teacher