On Wednesday 12th February 2014, A Level Classics students from DLD College London attended the UCL Classics Drama Society and Department of Greek and Latin performance of Aristophanes' "The Clouds" at the UCL Theatre Bloomsbury. The Bloomsbury Theatre Building opened in 1968, originally called The Central Collegiate Building. The auditorium originally held over five hundred people and soon became the Collegiate Theatre. In 1982 it was renamed the Bloomsbury Theatre to reflect its geographical location as well as the artistic associations of the name.
"The Clouds" is the story of an anxious father, Strepsiades, and his efforts to solve the family's debts run up by his young horse-loving son, Pheidippides. His desperation leads him to turn to the famous philosopher Socrates at his 'Thinkery' where he is taught all the essentials of life.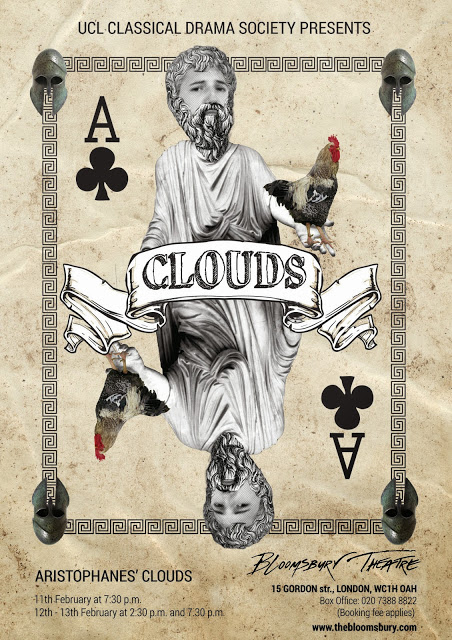 Each year the UCL Classical Drama Society and the Department of Greek and Latin present a classical play which is now one of the most famous and long-running commitments to the modern production of ancient drama in the world.
This was a first opportunity for most of the students to see a Classical Greek play and is extremely important for their studies as Aristophanes is a set author at AS level.
If you find yourself inspired by the ancient cultures of Rome and Greece, you would find A-Level Classical Civilisation at DLD is a very interesting course. You will gain a solid foundation in all the main social, political and literary areas of the classical period. From the epic adventures of Aeneas and Odysseus to the court rooms and the assembly in Athens, from the political satire of Greek comedy, from the glory of Octavian Augustus' regime to the very beginning of theatre and democracy, to the tragic stories of Oedipus and Medea, you'll delve right into the inner workings of what many people consider the dawn of civilisation.