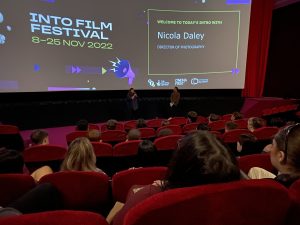 The last few weeks have proved to the Film and Media department, both staff and students, that to be based in Central London is so advantageous as we have been fortunate to attend the annual INTO Film Festival. The festival is an opportunity to meet an exciting range of figures from different aspects of film and media industries.
We had the opportunity to:
• Speak with director & series creator Joe Cornish as well as the author Jonathan Stroud and Producer Rachael Prior of a new Netflix show Lockwood & Co
• Attend a Female Producers panel with Nira Park, Amelia Granger and Nisha Parti who have produced an impressive array of films such as About Time and The Theory of Everything, Shaun of the Dead, Harry Potter And The Philosopher's Stone and The Best Exotic Marigold Hotel
• Listen to Nicola Daley, Director of Photography (DP)/Cinematographer for biopic Benediction who spoke about the collaborative process and how to work with director's to bring their vision to the screen.
Each of the creatives spoke about their roles, how to get started in their respective careers and to persevere in the face of challenges, building working relationships and how to utilise opportunities. For our students it was great for them to hear their expertise and to be provided with direct advice on possible future career paths.
Marie Kerrigan, Head of BTEC