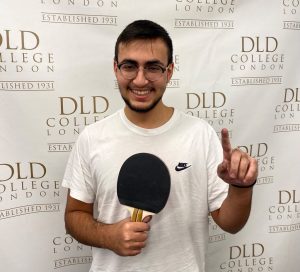 Tuesday 22nd Nov saw our five Houses battling it out to be crowned Table Tennis Champions 22-23 and gain those all-important House points.
The preliminary rounds saw each student competing amongst their own Houses to see who would be going on to represent their House in the main competition. Northern had a great turnout with a total of six students involved meaning it took a while to figure out who their main competitor would be. After some intense early action, we got down to the final five students. The round-robin format meant that each House would play each other and whoever won the most games would walk away the victor. One of the highlights was Piccadilly v Jubilee which saw Akim K come back from 1 – 6 down to defeat Irfan R and take the points! Unfortunately, this wasn't enough to sit on top of the table as the "machine" that is Aryan M (pictured) was unbeaten taking home a huge haul of house points back to, you guessed it…Northern House! Northern have grown a reputation as the "Sporty" House and this competition goes to show they really are the real deal!
Well done to all involved who made it a genuinely competitive, high-level competition.
1st Northern – Aryan M
2nd Piccadilly – Akim K
3rd District – Emad P
4th Jubilee – Irfan R
5th Metropolitan – Ali N
Sean Gallagher, Housemaster (Metropolitan) / Head of Co-Curricular