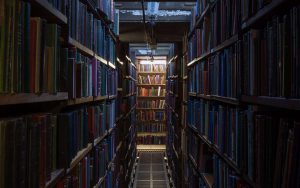 On Wednesday afternoon, as part of our institutional membership of the London Library, Greg Slysz and I took all of our A Level Year 13 History Students to a Research Day organised by Amanda Stebbings the head of Member Services at the London Library.
A very beautiful glass roofed reading room was made available for our exclusive use. We had sent a list of specific research topics in advance and Amanda provided both a master list of appropriate resources which were available on the open shelves and individual suggestions for each student. She took us round the stacks to History, explained the shelving system which though unusual is frighteningly logical, and we spent the next two hours or so collecting books and downloading articles from the digital library Catalyst. We have provision for borrowing 30 books at a time.
Because coursework requires individual research and first or secondary source citation this has been invaluable to our students. A level of seriousness came over the students I have never seen before. I think this experience will have altered their attitude to academic research permanently. It was an extraordinary afternoon.
Cathy David, Director of Studies / English / Classics