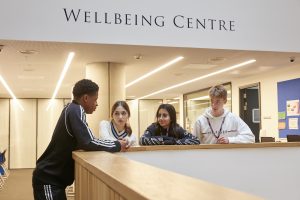 Today, 10th October 2022, is World Mental Health Day and DLD College London are featured in Independent Education Today in an article covering our pioneering wellbeing initiatives and dedication to providing outstanding pastoral care.
Recognising our achievement as the first school in the UK to receive the Gold standard for the 'Boarding school mental health award' from the Carnegie Centre of Excellence for Mental Health in Schools, the article includes insights from our Senior Vice Principal (Pastoral), James Kidd, as he details how we as a school, are supporting staff and students' mental health as a priority within our community.
As a member of the Independent Schools Association (ISA), Chief Executive Officer, Rudolf Eliott Lockhart, who recently visited DLD, commented on our efforts to develop mental health and wellbeing initiatives at DLD College London, and within our wider community.
"Over at DLD College London, significant steps have been taken to transform the cultural mindset surrounding mental health and wellbeing"  Rudolf Eliott Lockhart, chief executive officer of ISA.
To hear more about what James and Rudolf had to say, read the rest of the article here.