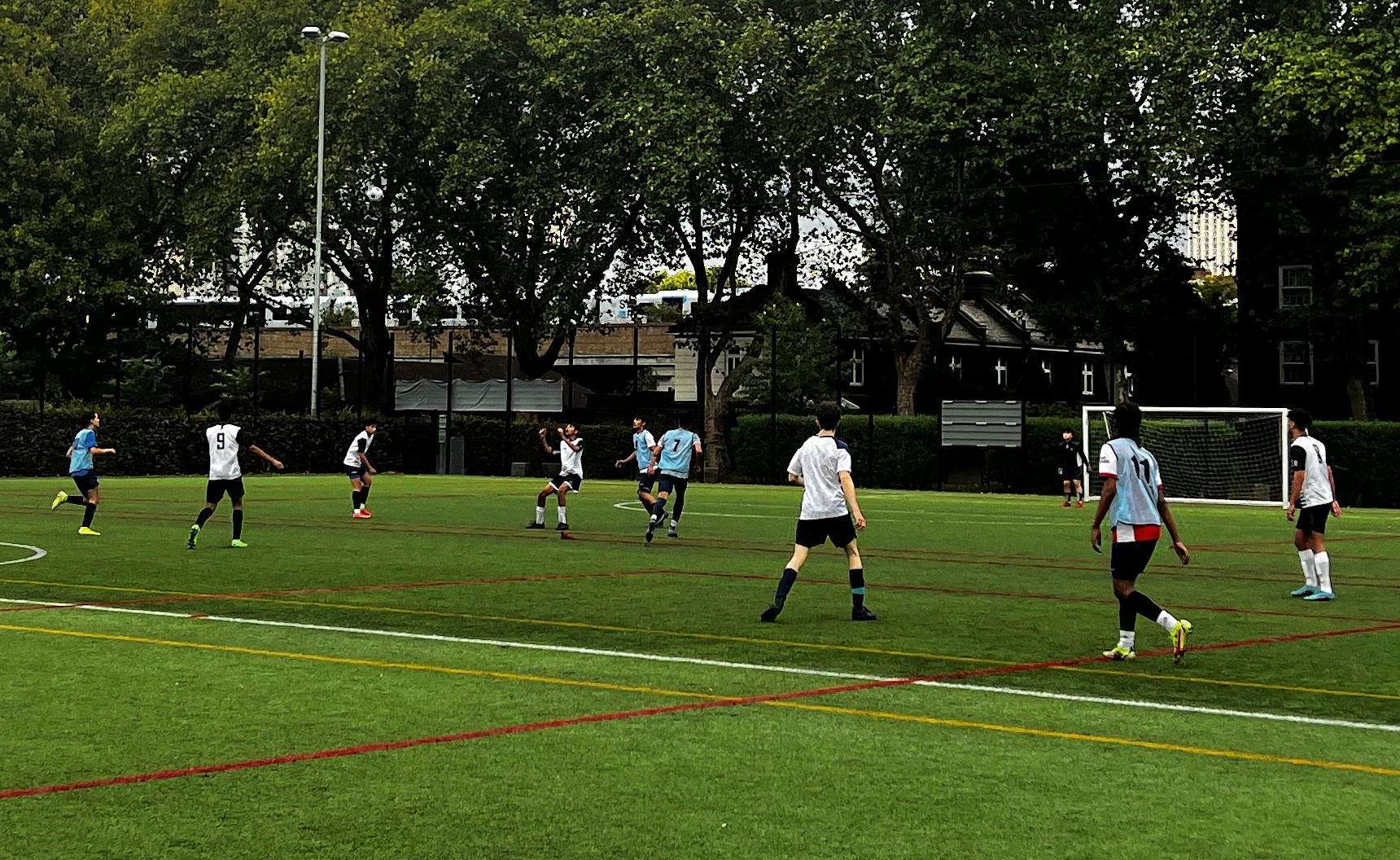 Result:
DLD 0 v 2 OASB
POTM:
Ishaan P (Y13, Metropolitan)
After only one training session, we had the task of putting together a squad for our first fixture of the season. We have built a great relationship with OASB (Oasis Academy Southbank) in recent years and this is now firmly in the fixture calendar. We had so little time to prep (who decided to organise a fixture two weeks into the start of term…ah yes, that would be me!) 🙂
1st Half:
We asked the boys to make a fast start and they didn't disappoint. With roughly 1min played Tom W put in a beautiful long-range aerial ball from his centre back position to Dakara W who ran on to the pass but took an extra touch and couldn't convert the chance…still 0-0 and OASB let off!
This buoyed the team and the support on the side-lines and for the next 15mins DLD dominated creating chances but not having the cutting edge needed to get us that all-important first goal.
2nd Half:
After OASB's early reprieve and holding off constant pressure throughout the first half, OASB regrouped and came out a different team in the 2nd half. This balanced the match and now both teams were getting chances to score.
OASB kept pushing and as we desperately tried to break the deadlock. We left spaces at the back and a clumsy foul just inside the penalty box gave OASB a perfect opportunity to go 1-0 up from 12yrds…which they didn't! DLD were let off the hook as their No8 smashed the ball over the crossbar…some say the ball has yet to come down from the sky!
This was a warning sign of things to come and eventually OASB took the lead with a simple low cross into the box and, with lots of ball watching going on, they managed to sneak to the back post for a "tap in". 0-1 OASB.
The boys continued to create chances, to their credit, and work together which is pleasing to see, considering they were introducing themselves to each other before kick-off. However, we couldn't level up the game and with Tom sent off (miscommunication about slide tackling, not his fault) and some sloppy defending, we conceded again putting the win safely in OASB hands.
This was OASB's first win in this fixture so it makes it an even more healthy competition which is great for our team, and we look forward to the return fixture in April.
In summary…
Excellent defending from Ishaan and Tom at the back, huge amount of work rate from AP in midfield, Kun tirelessly working up and down the wing, Bernard producing solid saves and distribution throughout, Dakara battling with three players at times as they targeted our talented front man…lots of positives to take away but alas not the result we wanted. MTS next!
Sean Gallagher
Housemaster (Metropolitan) & Head of Co-curricular