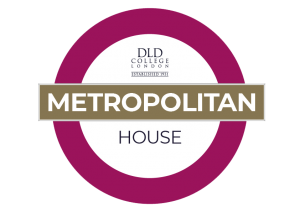 Metropolitan House,
Our first task was to establish our Metropolitan House identity. We decided our values: supportive, determined and environmentally aware. We then selected our House Captain, Zerda, and House Leaders, Ishaan, Deepika and Sean, who did a great job in getting teams together and leading by example.
Highlights of the year included winning Round 1 of the Chess competition, and the Charity Bake Sale, in which our students raised £132 for the Evelina Children's Hospital. Weekly House assemblies have included a quiz led by Kirti's tutor group on British slang, and presentations by Ishaan on being determined and Sean on climate change.
We are proud of the Metropolitan students chosen to join the Student Council – well done to Ishaan, Mariia, Anabella and Noelle. Congratulations to Ryan and Michelle who achieved a Principal's certificate for 20 commendations. Thank you to all students who have participated in House competitions and to the wonderful team of Tutors for their dedication and support.
I am stepping down as Housemistress at the end of this academic year. I leave Metropolitan House in the very capable hands of Sean Gallagher.
Read more about our end of year round up here.
Louise Affleck, Housemistress (Metropolitan House) / Physics