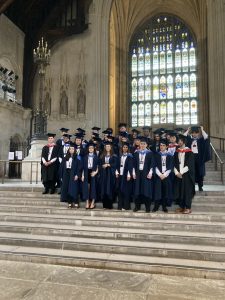 Our Graduation ceremonies today (two, to fit everyone in!) took place at the Houses of Parliament. A prestige venue, but more importantly, a prestigious group of young people. It has been a privilege to share their journey through A levels, BTEC or International Foundation Programmes.
For many, these have been the first public examinations and we have been blessed to see the dreaded Covid-ravaged years behind us. Students have worked hard this year to ready themselves for the examinations, so Graduation has been a well-deserved reward! It was lovely to see parents and guests, but our VIPs – the students themselves – rightfully took pride of place in Committee Room 14, where we were all able to share in their celebrations.
Gowned-up and dressed smartly, it was a sight for sore eyes, and I am proud of every one of them for what they have achieved. I hope they cherish this moment and keep the memories of today – and their time here at DLD – alive. Class of '22: we wish you well for all that the future holds!
James Kidd, Senior Vice Principal & DSL