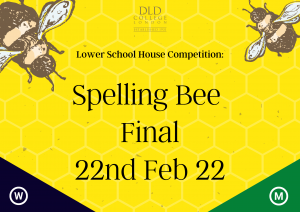 Westminster House and Marylebone House competed in this year's Spelling Bee Final with the entire Lower School as an audience. The nine finalists did tremendously well to deal with the nervous energy and competitive atmosphere that can come with representing their House at an event.
Students breezed through the early rounds but as our excellent pronouncer, Gareth Evans, began to give the students more challenging words, our elite spellers emerged. After a few homophones sent some students out of the competition we were left with the final three to see who would be crowned champion speller.
Last year's winner Annie D, can be very pleased with her performance finishing in 3rd place, despite being a little disappointed to not make it a back to back win, which would have been some achievement! That left it down to Kamonnut and Evie to battle it out for top spot with Kamonnut from Thailand holding her nerve to be crowned winner and gaining those all-important house points for Marylebone.
Congratulations to all involved and to the Lower School Tutor team and especially, Mark Johnson (Head of Drama) and Gareth Evans Assistant Principal (Lower School) for their help on the day.
Winners:
1st – Kamonnut S (Y11, Marylebone House)
2nd – Evie M (Y10, Westminster House)
3rd – Annie D (Y11, Westminster House)
Sean Gallagher, Head of Co-curricular & Sport