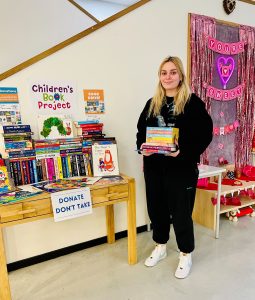 To celebrate International Book Giving Day 2022 on the 14th of February, the Student Council Charity Team and the Boarding Book Club teamed up this week to organise our annual Book Drive to donate to the Childrens' Book Project!
The Childrens' Book Project works across the UK to redistribute thousands of new and gently used books to children and their families. They aim to help children make the leap from 'learning to read' to 'reading to learn' and with over 80 books donated so far, we have more than doubled the total we achieved last year.
A huge thank you to everyone who donated and to Charlotte and Lowri for their help in organising. Your generosity will help a great number of children within the community. Smaranda is pictured here with the books she purchased to donate to this worthy cause.
We appreciate your help,
Emma Finnerty, Houseparent