Monday saw an extraordinary visit for students of Film, Media, Art and Graphics to The Making of Harry Potter at the Warner Bros. Studio Tour London.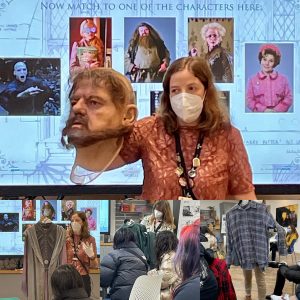 Students had the unique opportunity to participate in a workshop, specifically organised for DLD College London and led by an expert in the film making process. Students were highly engaged in seeing how their studies in class were applied to real world film making, costume, and prop design. We had the rare opportunity to see real costumes and prosthetics close up, and to learn about how the conceptual nature of storyboard planning and costume design works to inform our unconscious psyche as film viewers. The Warner Bros Studio is a working studio and students were treated to some information about what is currently being filmed, though they are bound to secrecy!
Following the workshop, students toured the Harry Potter set and saw how many behind the scenes 'tricks of the trade' were accomplished. It was a highly impressive visit, and we were equally impressed by our dedicated students. The tour concluded with several Butterbeers and a sense of excitement for possible futures in the film industry!
Sarah Watson, Vice Principal (Academic)