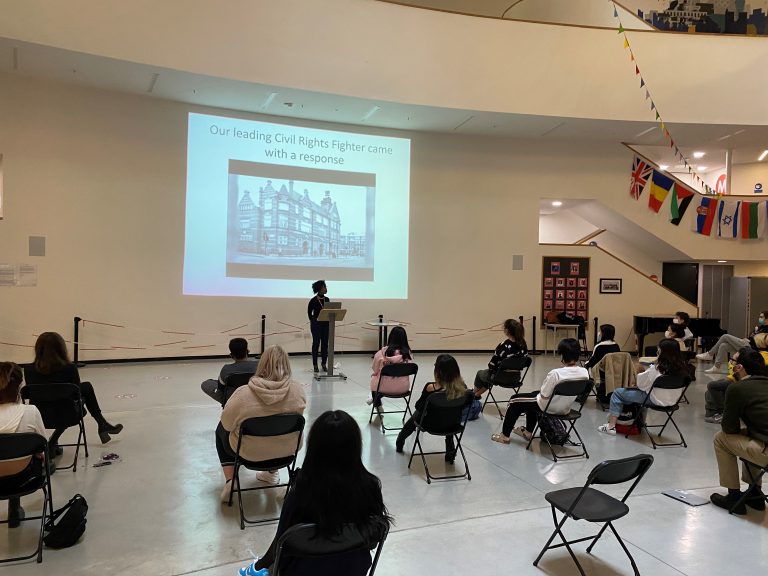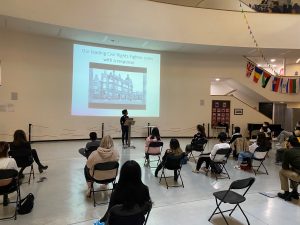 It was an honour to meet Sol Campbell, the invincible football legend. He was very impressed with the Black History Month displays around the building and shared his experiences of being the victim of racism, from the time he first started attending football training as a young boy and that continued all the way through his professional career both as a player and as a manager. It is disheartening to think that such a high-profile personality has also been the victim of such abuse, but also comforting that despite all the challenges that he faced, he was able to reach such great heights in his career.
This week, we were privileged to host Paula Perry, mentor, lecturer and author of co-Black British History (Black Influences on British Culture 1948 – 2016). She gave an informative and entertaining talk about the men and women from the former British colonies who answered the call to come and help rebuild Great Britain after World War Two. They came from many countries and worked in many different industries, bringing with them reminders from home, including their music. The Atrium echoed to the sounds of calypso, ska and reggae music whilst Paula explained the influence that these genres have on the music that we listen to today.
Despite the challenges of 2020, the DLD College community has demonstrated their commitment to recognise and celebrate diversity. Across the college, students have been exploring the role of Black Britons in different subjects. Highlights include:
• Art – Black Art Matters contribution, discussing how the influences of African art can still be seen today
• Psychology – a display showcasing students' investigations into themes around discrimination and unconscious bias
• History – the role played by British African regiments in the First World War
• Creative Arts – a series of short films on Black Voices in Media and Film
• Boarding – they hosted a number of events including an African and Caribbean Night and film nights featuring popular black films. The Boarders' Book Club is currently reading White Teeth by Zadie Smith
Rest assured that even though Black History Month 2020 is almost over, we at DLD will continue to promote and celebrate the role of different communities throughout the year.
Fumi St Marthe
Lead for Inclusion and Diversity