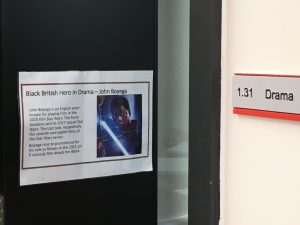 As part of DLD's commitment to develop leaders for a diverse world, Black History Month is an opportunity for us to recognise and celebrate the role of Britons from Black, Asian and other ethnically diverse backgrounds. There are displays of Black British heroes on display all around our building and members of the College community are invited to nominate their own heroes to add to the collection.
A number of events and collaborations are planned, including a Black History Month assembly. Students in the History Department will be investigating the role of black icons in history and their presentations will be recorded by the Media Department. The Art Department will be showcasing the work of historic and contemporary black artists. Lower School students will be creating their own works inspired by the writings of Toni Morrison.
Watch our Information and Resources presentation here.
Fumi St Marthe, Inclusion & Diversity Ambassador, Head of BTEC