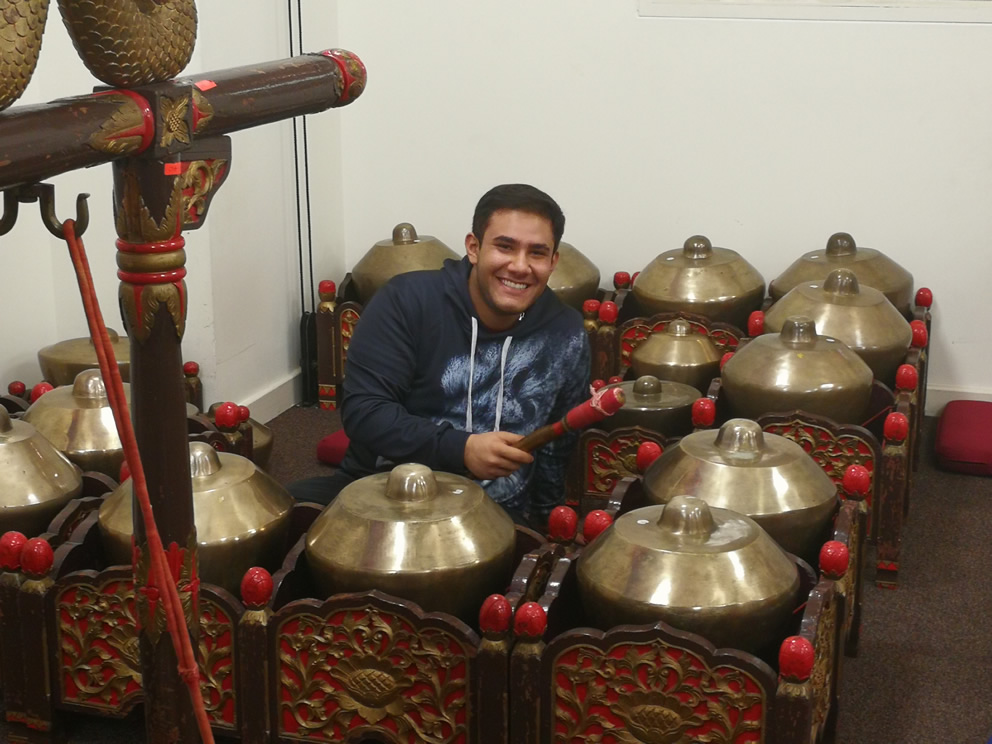 DLD College London Music students visited one of our many famous neighbours, the Southbank Centre. The Southbank were privileged to receive a beautiful Javanese percussion orchestra called a gamelan. This was a gift from the Government of Indonesia to the people of Great Britain as a gesture of friendship. The gamelan was named 'Kyai Lebdha Jiwa' or 'The Venerable Spirit of Perfection' and has to be treated with respect by the musicians, for example, we had to move around the instruments and not step over them. Our students learned how to play each instrument, and we performed a famous piece of music from the island of Java. By the way there are 17508 island in Indonesia – wow! Our students were mesmerised by the repetitive, soothing sounds of gongs, metallophones and drums. It was a great opportunity to leave behind our noisy busy lives in London, and be transported to the warm, sultry, climes of the tropics.
Click here to see more images from the workshop.
DLD College London offers a wide range of A-Level, BTEC, and International Foundation courses in Music. At DLD Music lessons are taught by expert staff and tailored to the individual needs of the students. There is an open house policy, which allows students to use the music facilities whenever they wish as long as they are not being used for teaching. There are regular performance opportunities for all DLD music students in our end-of-term concerts, annual Winter Concert and events such 'DLD Starsearch'. The college is extremely well equipped and includes a recording studio and sound proofed practice rooms.