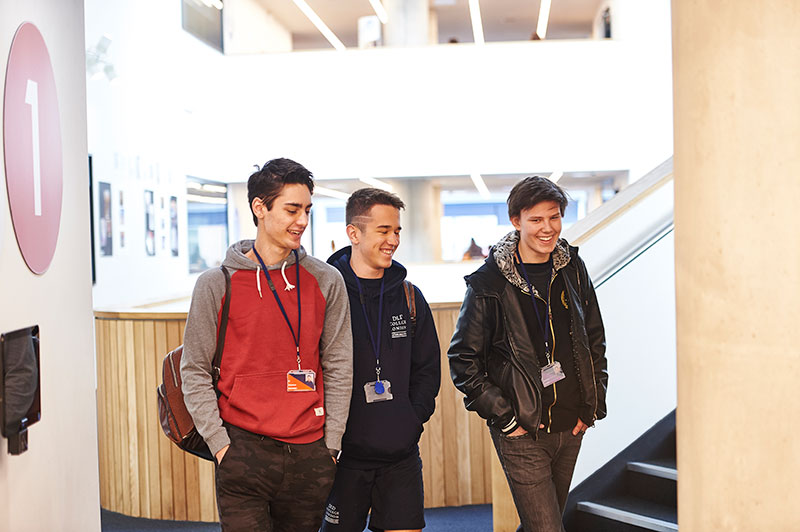 It's almost here. The day you've been waiting for all summer: Thursday 17th August, A-level Results Day. Regardless of how well you think you've done, you're bound to be a little nervous, this is after all, the culmination of years and years of hard work. And it's important you are ready for all eventualities. At DLD all A level results will be emailed to students at 7.30 am. If you need to go into school to collect your results, the following checklist might prove useful.
A-Level Results Day Checklist:
Your phone. Not just to call your family with your results, but for things like a calculator – you may need to add up your module marks. Make sure it is fully charged before you leave the house, and it might even be a good idea to bring along a charger too.
A pen and paper. You might need to take some notes or jot down some phone numbers.
Your UCAS Track Log In details.
A copy of your UCAS letter – the one with your UCAS Personal ID number on it and other useful bits like your conditional offer grades.
Contact details for both your firm and insurance offer universities. Make sure you have both their telephone numbers and their email addresses.
If you think you may need to go through Clearing you can look up, even before August 17, the universities which still have places on the UCAS home page. Alternatively you could buy a copy of the Daily Telegraph, the only newspaper which publishes a full list of available Clearing spaces, or download their apps for i-Phone or Android.
Your A-Level results are great and you meet your firm offer
Congratulations! You will feel incredible! Call your people and share your good news. You won't need to call your university to confirm this unless they have specifically told you to. Your details should update automatically on UCAS Track. Don't panic if your details are not updated immediately, they sometimes take a while to go through. If your details have still not been updated by Friday morning, call your university to find out what may have caused the delay. Sometimes the universities are waiting for you to scan and forward to them your IELTS certificate if you are an international student. If your offer is dependent on the result of a GCSE examination, your place will not be confirmed until August 24. Please remember to send your GCSE result to the university.
Once your details are updated UCAS will send you your AS12 letter / email. Read it carefully and follow the instructions within. Some universities don't require you to confirm your place, others do. Your AS12 letter / email will tell you what to do.
It's time to celebrate!
Your A-Level results are much better than you expected
Brilliant! Once you have calmed down a little and settled back on Earth, you have an important decision to make here. You could still go on to your first choice university. This is often the best option because you have spent a lot of time researching the suitability of that course for you and you have probably visited the university to make sure you would be happy there. Alternatively, you could apply for another course at a university which required higher grades. This is known as Adjustment.
You can register for Adjustment through UCAS Track. You have five days from Results Day (including weekends) to find another course on another university and negotiate a place on that course. All the onus is on you to do all the work here. Don't worry if you do not find anywhere different to go to, your original place will still be held for you.
To find out more about Adjustment and how to do it, read this article on the UCAS website.
Your A-Level results are not quite as good as expected and you've narrowly missed your firm offer
Firstly don't panic, all is not lost. If you have just narrowly missed your grades there is a good chance your first choice university might accept you anyway. It depends on how much you missed your offer by and how many other students have suffered the same fate as you.
Log in to UCAS Track and check your status. If your status is "unconditional" then happy days, you've been accepted! If your status says "conditional" call up the university immediately with your details and speak to them. Some universities might require you to sell yourself a little bit, or to present any mitigating circumstances that would explain your results. Stay calm, be polite and remember, you're great and they'd be mad not to take you.
Don't be too hard on yourself if your first choice university does not decide to offer you a place, you still have plenty of options open to you.
Your A-Level results are good enough to meet you insurance offer
Great news, you'll still be going off to university to study.  In UCAS Track your insurance offer should say "unconditional". If it doesn't update immediately, wait until Friday morning and give your university a call and find out what's caused the delay. Then all you need to do now is go home and wait for your AS12 to arrive.
Your A-Level results are not good enough to meet your insurance offer
Once again, don't panic. Check UCAS Track, your university may have accepted you. If your status says "unconditional" you are in, if it says "conditional" you will need to contact them and speak to them. If they decide that they don't want to offer you a place, it's time to think about Clearing.
Clearing
What is Clearing? Clearing is a process that lets you apply for a place at universities that still have spaces left on some of their courses. You are free to approach any university that still has places open and ask them whether they will take you. It is very important that you do all the calling and all the negotiating yourself. Do not let your parents or anyone else speak on your behalf.
You can find out which universities still have places on their courses by either checking on the UCAS home page, or in the Daily Telegraph on Results Day, or by  downloading their i-phone or android apps to your phone.
And if that doesn't work…
There are still several options open to you. You may feel you could do better, and would like to think about resitting one or more of you're a-Levels. DLD College London offer a number of one year A-Level retakes courses, and we have an excellent pass rate.
You might still want to go to university, but feel that A-Levels and examinations are not the best way of expressing yourself. Try one of our BTEC courses on for size. BTECs are work related qualifications that provide a more practical, real world approach to education and offer another route to university for you to try.
Good luck!