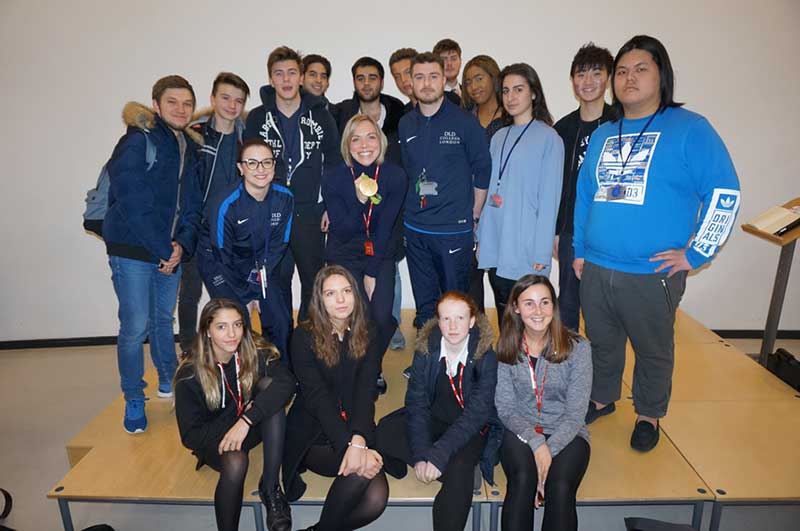 Last week we welcomed Rio Gold Medal Olympian Kate Richardson-Walsh to DLD College London to give an inspiring speech on her sporting success as well as her promotion of LGBT+ (Lesbian, Gay, Bisexual and Transgender). The England and team GB Hockey captain spent an afternoon engaging with the pupils and telling them about her life, her Olympic experiences and her views on equality.
Kate also shared what challenges she faced growing up and what it means to be married to an equally high profile woman – fellow teammate Helen Richardson-Walsh. The Atrium and balconies were filled with admiring pupils from both DLD and Portland Place School. A video showing highlights of Kate's career, including hockey training and winning Gold at Rio was played.
The talk was a great success with the pupils engaging and asking more questions in the Q&A than with any other guest speaker to date.
Kate was the second high profile speaker to visit DLD as part of their new LGBT+ theme. The new initiative is running throughout DLD College London and has been set up to show students they are entering a safe and supportive community which values equality. At the college, LGBT+ students can find direct support through their teachers, personal tutors and directors of study as well as the Director of Welfare.
Jo Harland, BTEC Creative Media Production Tutor and Leader of DLD Pride, commented: "Kate Richardson-Walsh is such an inspiration, she freely and openly speaks of her successes and her experiences. I think that there are many students with relevant questions who, truly, do not understand the issues facing LGBT+ people, or who are ignorant to the lifestyle choices others make.
"Kate Richarson-Walsh was able to help dispel some myths and show that a lesbian relationship is like any other, based on love and mutual respect. Both Kate and Helen's amazing achievements show that with dedication and ambition, everyone can succeed. It was heart-warming to see the admiration and respect shown by the students at DLD towards this hardworking, strong female role model."
GCSE student Dayana Chumburidze, (16), commented: "As a young ambitious woman it was a real honour and delight to have a gold medal Olympian visit the place where I study, I felt really inspired and motivated."
Sean Gallagher, Sport Co-ordinator at DLD added: "Kate Richardson-Walsh was quite simply…amazing! She is a true inspiration and a testament to what can be achieved through hard work and dedication. The enthusiasm and buzz she created after the talk was something special and will be something we will remember for a long time to come."