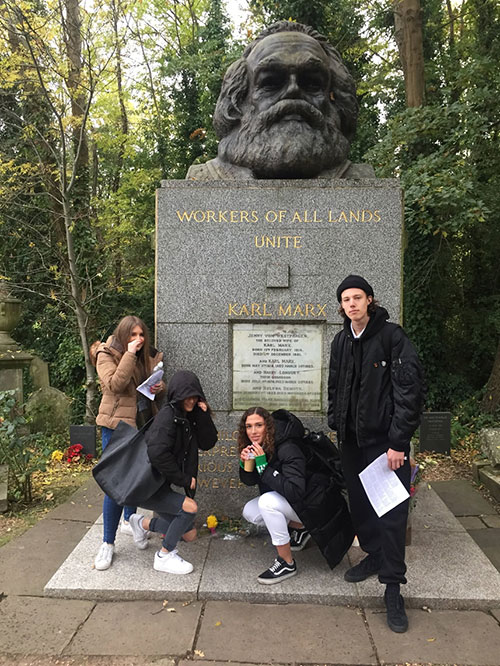 English Language and Literature students made an autumnal visit to Highgate Cemetery, one of the most spectacular burial grounds in the world. Opened in 1839 as one of the "Magnificent Seven" circling London, it was built in response to the population explosion of the industrial revolution, when cramped city church yards could no longer cope with an overwhelming number of burials. Abandoned for many decades, the cemetery is now dedicated as a Grade 1 Garden of Special Historic Interest.
Highgate was a spacious hilltop park where Victorians could pay respect to their loved ones while enjoying clean air away from the polluted city. Couples visited for romantic walks – unmarried women could not appear in public without a chaperone, but an exception was made for holy sites such as church land and burial grounds. Now Highgate is dilapidated and thick with trees; greenery has overgrown many of the Gothic and Egyptianesque gravestones and tombs. On a dreary, drizzly November day it is a perfect location to explore for students of Shelley's Frankenstein, Stoker's Dracula, and other Gothic fiction.
We investigated the elegant and sinister alleys and slopes, walked along Egyptian Avenue where a colony of giant, dark-dwelling spiders was once discovered (the eggs hatched from imported coffin wood); around the Circle of Lebanon (inspiration for Dracula's London hideaway); down into the unlit catacombs where we saw and touched ornate coffins that were locked away to protect them from London's infamous grave-robbers (and even from ghoulish, would-be vampire hunters).
Our guide John regaled us with tales of the residents, many evocative characters, including Thomas Sayers, England's last bare-knuckle fighter, the most famous celebrity of his time and for whom 100,000 followed the funeral procession up Highgate Hill, taking three days to pass. Finally, leaving the sombre shadows, a visit to the East Cemetery to see the imposing gravestone of philosopher Karl Marx.