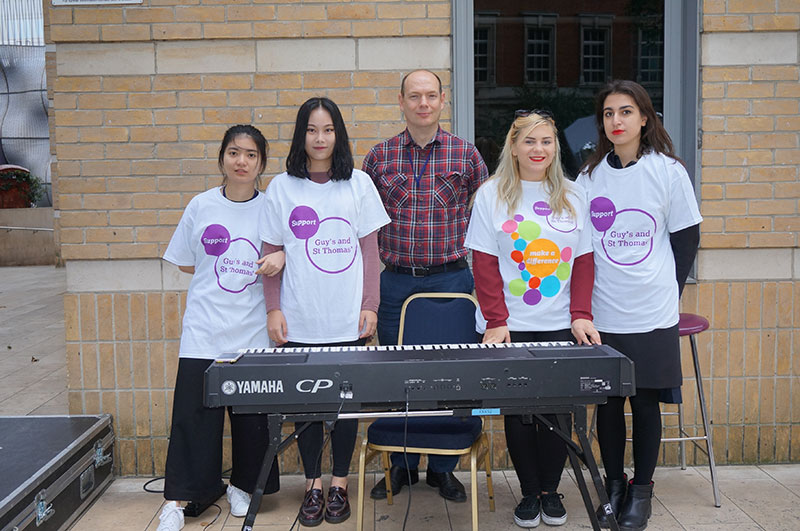 Charitable students from DLD College London used their creativity to help support and motivate fundraisers who took part in Guy's Urban Challenge on Friday, 30th September.
During the challenge at Guy's Hospital, participants ran 2.4km around Guy's campus, followed by a 15km cycle on state-of-the-art Wattbikes and then finished with a gruelling stair climb up 648 steps to the 29th floor of Guy's Tower, the world's tallest hospital building.
Our students took time out of their day to play upbeat, family friendly music on a keyboard for 20 minutes every hour throughout the day. The various songs played by the four students helped to keep spirits high and to encourage the sportsmen and women to keep going.
The support the students offered was invaluable to the fundraisers and helped them to complete their challenge. The money raised will go towards helping patients at Guy's Hospital, St Thomas' Hospital and Evalina London Children's Hospital.
Peter Hopkins, Head of Creative Arts Faculty at DLD College London said: "DLD students rose to the challenge yet again today by playing piano for Guy's and St Thomas' Charity Event. They played outside and entertained passers-by on the street."
Principal at DLD College London, Rachel Borland commented: "I think it is fantastic that some of our students gave up their time to go and provide entertainment to those who might need that extra motivation to push through this gruelling challenge. "It is for a very worthy cause and I am so pleased that the talents of our students could help these charitable sportsmen and women reach their fundraising goals."