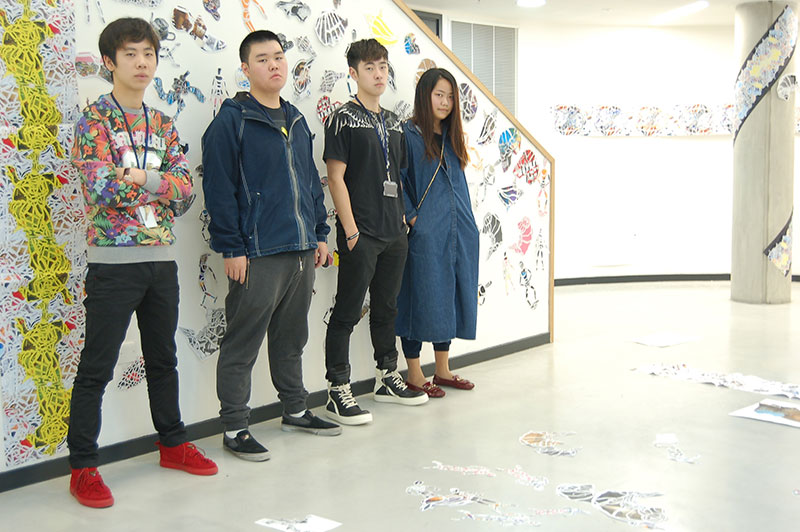 These images record the current Art Foundation students temporarily installing some of their Project 1 Organic/Mechanic experimental coursework in the College Atrium; led by the tutor, Andy Knight, one of the Foundation Course teaching team, with special responsibility for Photo-based coursework.
The work has been created by using a range of each student's studio-made direct observation studies, of real organic and mechanic objects, to create an overlapping design, which is then copied and cut to create a stencil. This stencil is then used to create a variety of colourful and semi-abstract designs, which is then copied in various sizes.
[shareprints gallery_id="11213″ gallery_type="squares" gallery_position="pos_center" gallery_width="width_100″ image_size="medium" image_padding="10″ theme="dark" image_hover="false" lightbox_type="slide" titles="true" captions="true" descriptions="true" comments="true" sharing="true"]
The solid strips displayed are created by taking stencil and collage images, and creating a solid decorative design that can be turned into a kind of wallpaper strip.
The aim of this project is to show students how they can take work that they have made by looking at the real world around them, and, by a process of visual and technical experimentation, exploration and development, create new pieces of artwork. The temporary installing of the work around the 'blank canvas' of the College Atrium shows how Art can be used in inventive and interactive ways to transform and change the visual and physical environment around us.
Jonathan Parkhouse
DLD College London Art Foundation Course Co-ordinator