This academic year the Faculty of Social Science at DLD College London has committed to developing an innovative student reward system. Tutors are very conscious of the exponential growth in technology and acknowledge the need to equip students to progress in a digital world. As such, they have introduced a Badge system that draws on Gamification research. 
Whilst planning the system, the Faculty of Social Sciences learnt that 70% of Forbes Global 2000 companies have plans to utilise Badges and Gamification techniques. The systems that Vodafone and PwC have designed to improve employee efficiency were presented as case studies and serve as benchmarks for the Faculty. The planning phase also involved a critical discussion of Professor Paul Howard-Jones' (University of Bristol) ideas related to applying our knowledge of cognition and neuroscience to enhance learning experiences.  Prof. Howard-Jones' research explores the benefits offered to education by emerging technologies. His work is supported by an expert consideration of underlying cognitive processes. 
Utilising the capabilities of Moodle (DLD's Virtual Learning Environment) the Faculty has setup a reward programme that allows students taking GCSE, BTEC, A Level and IFP courses to 'win' electronic badges for reaching milestones that nurture effective Study Skills. Students complete tasks that demonstrate progression in the following: 
Research
Perseverance
Discussion
Teamwork
Scholarly pursuit 
Each category has five grades. The names of the grades and the theme of the badge series have been differentiated according to the level of study. 
Nick McCartney describes the GCSE Monopoly badge series:
"Since we are starting the initiative with Business based subjects, we decided to theme the GCSE series around the quintessential business board game – Monopoly. This also emphasises that we are proud of our place in the capital and allows us to tip our proverbial hats to the old DLD Marylebone campus by including Marylebone Station and Bond Street as grades" 
Students studying A Level or BTEC Business as well as the International Foundation Programme work towards a badge series that is themed around Great Explorers. Imran Lakhi explains: 
"We sincerely believe that learning and education are a lifelong journey. Many of our students have not studied Social Science subjects before and a significant number are also coming to London for the first time. We felt that the characteristics we are hoping to nurture in our students are encapsulated by the great explorers of the past. We also liked the idea of encouraging learners to think beyond limitations." 
Although Gamification has its own 'magnetic effect', students are incentivised further by the opportunity to receive tangible rewards. Every month, students who demonstrate outstanding progress will be awarded prizes. 
This month, Darcy Jack was awarded a voucher that entitles her to two free meals at any restaurant in the Nando's chain. In addition, Connor Hughes and Monroe Wang were each presented with a Ned's Noodle voucher worth £20. Further prizes will be available in the coming months.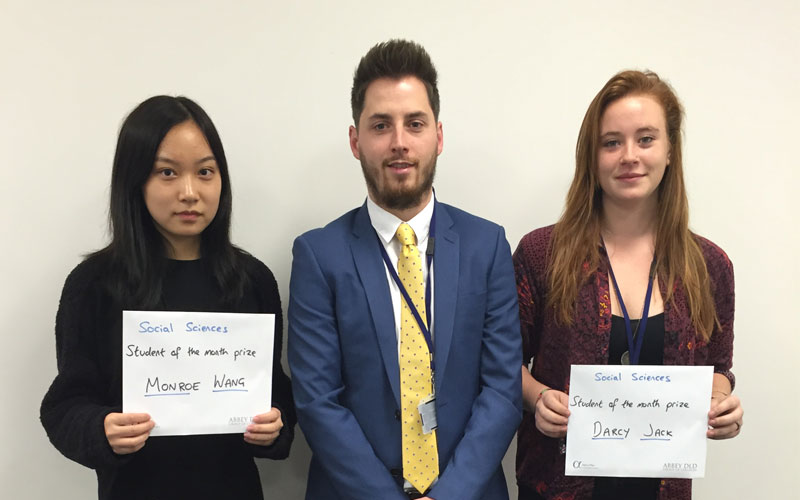 Initial evaluations of the programme point towards resounding success. The Faculty of Social Sciences is grateful to all those who have supported the initiative and wishes to, once again, congratulate the September prize winners.