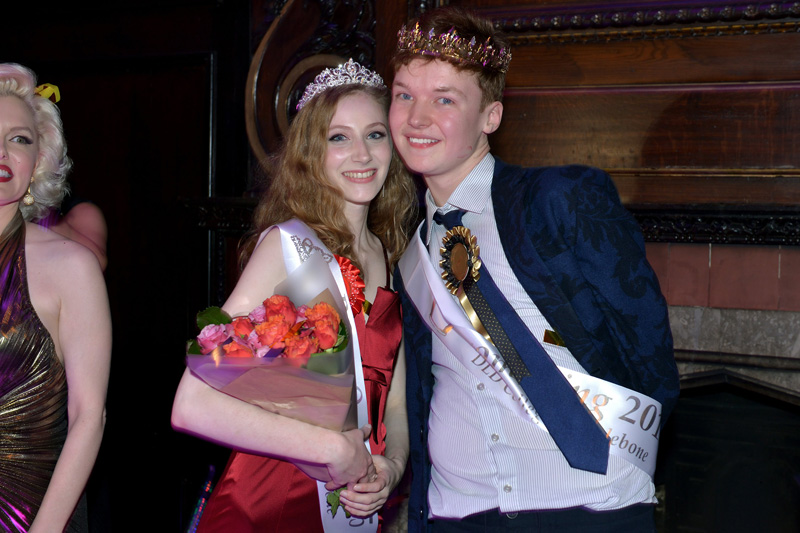 DLD College London students took to the red carpet to celebrate the end of their academic year with a stunning Hollywood glamour themed prom.
The event, jointly hosted by the Marylebone and Belgravia campuses at the spectacular Fulham Palace, saw guests greeted with a colourful cocktail and canapé reception in the courtyard.
Guests posed for photographs with Marilyn Monroe who mingled and conversed with the 120 students who attended.
Stepping off the red carpet they then enjoyed a two course meal in a grand marquee in the Chaplains Gardens.
After the exquisite banquet, students were able to dance the night away in the Great Hall where a DJ and Disco were in place with an illuminated dance floor and ceiling lights.
There was a Hollywood Glamour photobooth which was equipped with fun props and had unlimited photographs for the students to take away with them.
The staff and students were then treated to a decadent dessert. There was a huge Belgium chocolate fountain on a stunning lit table armed with its own operating chef and endless snacks to dip such as fudge, profiteroles, strawberries, brownies, nougat and much more.
Marilyn arrived dressed in her iconic white dress before changing into an incredible gold, floor length gown to announce the prom Kings and Queens.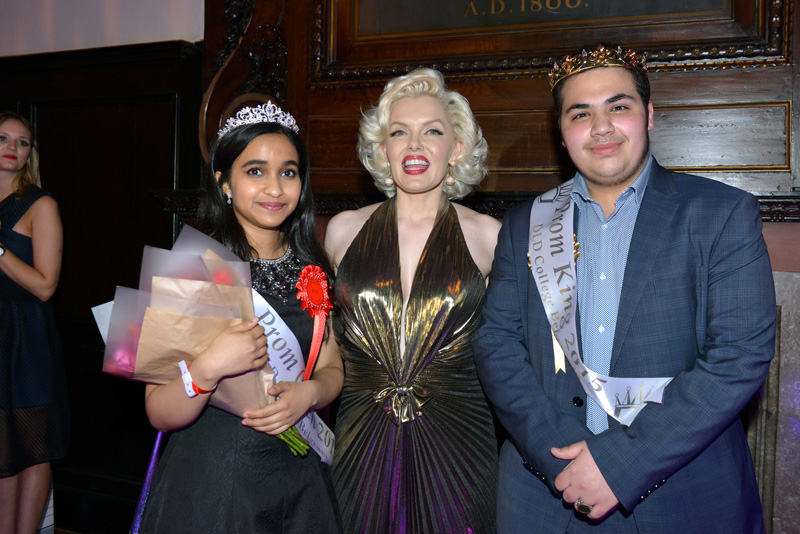 Principal Rachel Borland said: "It was a fantastic night and the entertainment was a lot of fun.
"The students deserved this celebration as they have all attributed so much to the college community to make this a memorable year. Both the students and the staff thoroughly enjoyed celebrating together in such a beautiful venue. Marilyn was also excellent and entertained throughout the night."
Chris Morrell, (17), from Kilburn, was crowned prom King for DLD Marylebone, with Millie Unsworth-Webb, (17), from Brent, as prom Queen.
Millie commented: "I have spent my A level years at DLD and during this time I feel that I have matured and developed due to the learning opportunities provide by the college. The teachers are amazing with the gift to inspired young people to discover talents that they themselves may not have realized that they possessed. As for the students, we seem to be like a community in which anyone is welcome.
"Prom is a special highlight in the DLD calendar and being crowned Prom Queen was really a celebration of the many friendships I have made here."
The Belgravia prom King was Mohammed Reza Hosseini, (18), and the Queen was Maram Abbas, (18).
The two sets of prom King and Queen were all presented with rosettes from Marilyn in the Grand Hall and received cheers from their fellow students. A huge confetti gun was set off when the pairs were crowned cascading gold and silver glitter everywhere whilst "Time of my Life" played in the background.