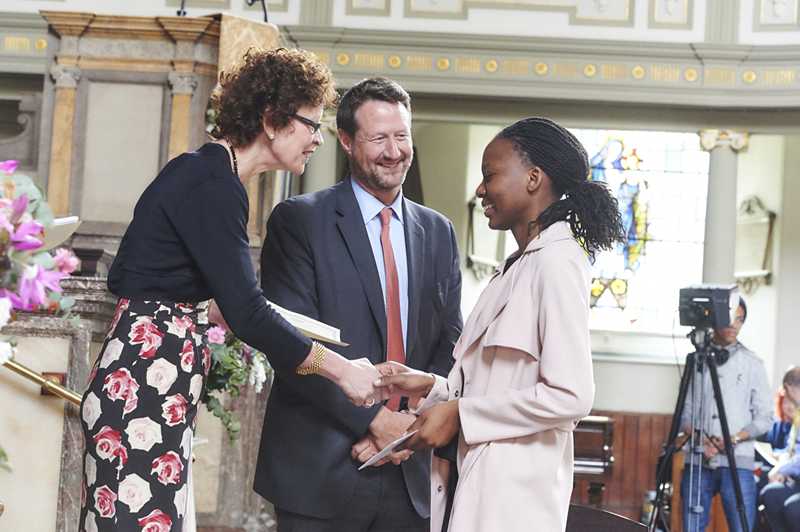 DLD College London students were celebrated for their fantastic achievements at a prestigious award ceremony held at St Marylebone Parish Church, London.
High-profile guests were in attendance to present the awards, including the Honorary President of DLD College London Baroness Perry of Southwark, Julian Drinkall, Chief Executive of the Alpha Plus Group and Sir John Ritblad, Chairman of Alpha Plus Governors at the London Business School, and Deputy Chairman of the Royal Academy of Music.
Guests were treated to lively musical performances and moving readings during the prestigious event. An inspiring speech was given by guest speaker, Alumna student Gabrielle Watts.
During the ceremony Baroness Perry addressed the students. She said: "Well done to the young people who received an award which was the result of a lot of hard work. DLD has given you the ability to formulate your ambition and aspirations."
Gabrielle, who now reads Law at The London School of Economics and Political Science told guests how DLD College London helped her achieve her goals. She said: "During my time at DLD I grew as a person thanks to the help from the staff and my peers. The support I received enabled me to attain a place at University and achieve my ambitions."
Principal Rachel Borland, said: "Our students thoroughly deserved a celebration them and their achievements. They have had an outstanding year and should be proud of their attainments.
"These awards are designed to celebrate the subsequent success of our students here at DLD and I am amazed at the dedication they have shown to their studies."