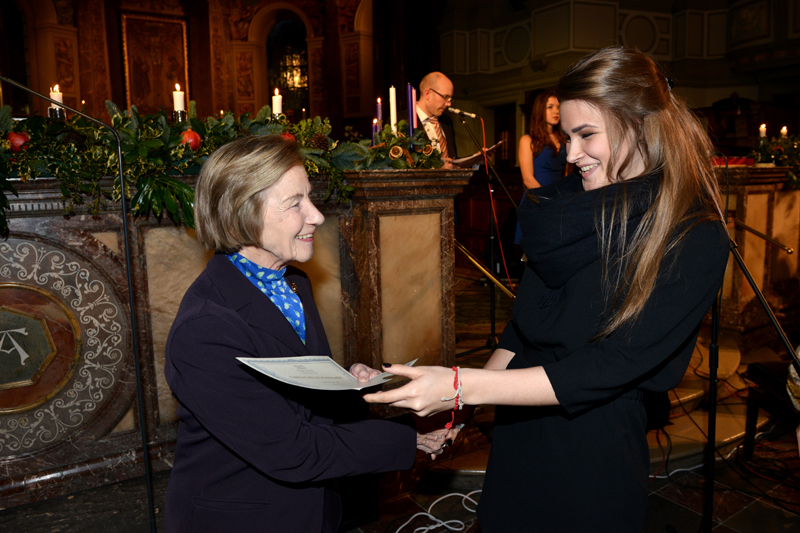 DLD College London students took centre stage at St Marylebone Parish Church to spread festive cheer and celebrate the Christmas festivities at this year's Winter Concert production.
Talented students from both the Belgravia and Marylebone college campuses celebrated the festive season as they showcased their artistic talents.
Students, alumni, parents and teachers gathered in unison to support the highly anticipated annual concert at the iconic St Marylebone Parish Church.
The afternoon's proceedings was hosted by Michael Brett who welcomed guests to enjoy the student's theatrics. From musical performances to classical Shakespeare readings, the DLD College Winter concert saw students shine as they performed their own written accomplishments.
The afternoon was drawn to a close by The Ukulele Club who performed a musical rendition of The Beatles 'All You Need Is Love' and the classic 'White Christmas' track by Irving Berlin.
The BTEC Media department at the college caught every moment of the action on live-stream to not only gain valuable experience but to ensure those who were not able to attend the performance did not miss out.
Alumni student Stella Matias-Wiles returned to the college to support the popular event. Stella who is now studying English at the University of York commented: "I am very happy to be back supporting DLD College at the Winter Concert.
"I wouldn't be studying at York if I hadn't received the support from the college that I did. The teachers were really supportive and DLD gave me a second chance to get onto my first choice degree programme. It's really nice to return."
Rachel Borland, DLD College London Principal commented: "The DLD College Winter Concert is a highly anticipated date in the annual calendar and there was certainly lots of excitement leading up to the production.
"Everyone involved gave an outstanding performance, I am extremely proud of the students who have worked tirelessly to ensure the production was such a memorable occasion."
Music teacher Peter Hopkins said "It takes an enormous amount of effort, perseverance and attention to detail to turn a vision into a reality.  Therefore I'd like to express my gratitude to all the colleagues who played a special part."