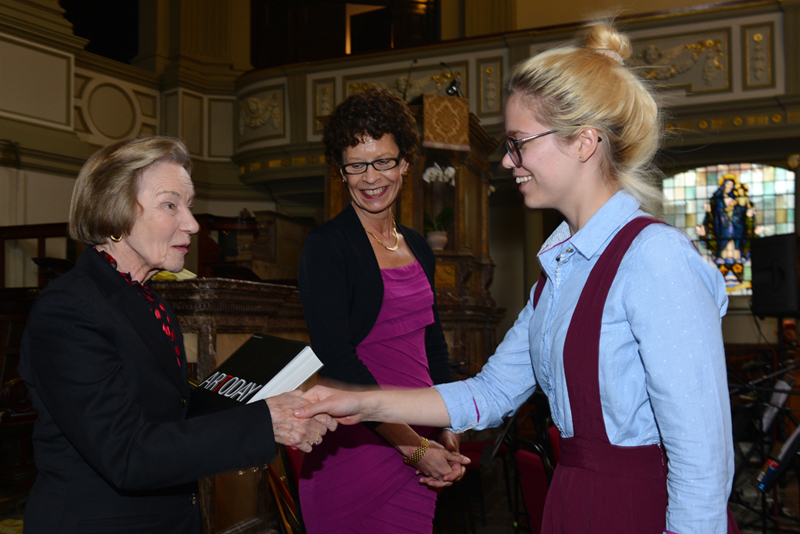 DLD College London's annual end-of-year awards ceremony took place in Marylebone Parish Church on Friday May 2nd.
Students from DLD Marylebone and Belgravia were joined by parents, staff and guests Graham Able, Sir John Ritblat and Baroness Perry of Southwark. 
There were a number of outstanding student performances at the event. Tony Zhang and Tien Manh Nguyen opened proceedings with a fine rendition of 'Espana Cani' by Pascal Marquina Narro. Before Principal Rachel Borland took to the stage, Mikhail Bozylev performed a fantastic song he wrote himself called 'Dissimilitude' on the piano, and Melanie Harikrishna sang 'If There Were Dreams To Sell' by John Ireland. 
Prinicipal Rachel Borland welcomed parents and guests to the event, and congratulated students and on another exceptional year at DLD College London.
After the Principal's speech, Libby  Moore and R. Tunmi performed their own composition 'Echo', followed by Jason Leung and Henry White playing their own song 'Sure Hope'. 
Millie Unsworth-Webb's reading, an extract from a speech by Sir Ken Robinson moved everyone in the church and then the Vocal and Ukulele Groups entertained everyone with versions of Dolly Parton's hit 'Jolene' and a magnificent 'California Dreamin' by The Mamas and The Papas.
Next,  returning DLD alumnus Isobel Mascarenhas-Whitman spoke of her experiences at DLD and how they'd helped shape her life and ready her for the big wide world. The final performance before the awards presentation was a fantastic Bob Dylan medley by Harold Gordon-Smith  and Tien Manh Nguyen. 
Graham Able and Baroness Perry of Southwark both addressed the students afterwards, before being joined by Sir John Ritblat for the awards ceremony.
The final performance of the evening were a stirring rendition of Rhianna's 'Stay' by Karolina Nevoina and Mikhail Bozylev. Calin Epure, Head of the Student Council, gave the Vote of Thanks, before Will Nicolls rounded off the event with a few words about the college's charity, the Chileleko Community School in Zambia, Africa.