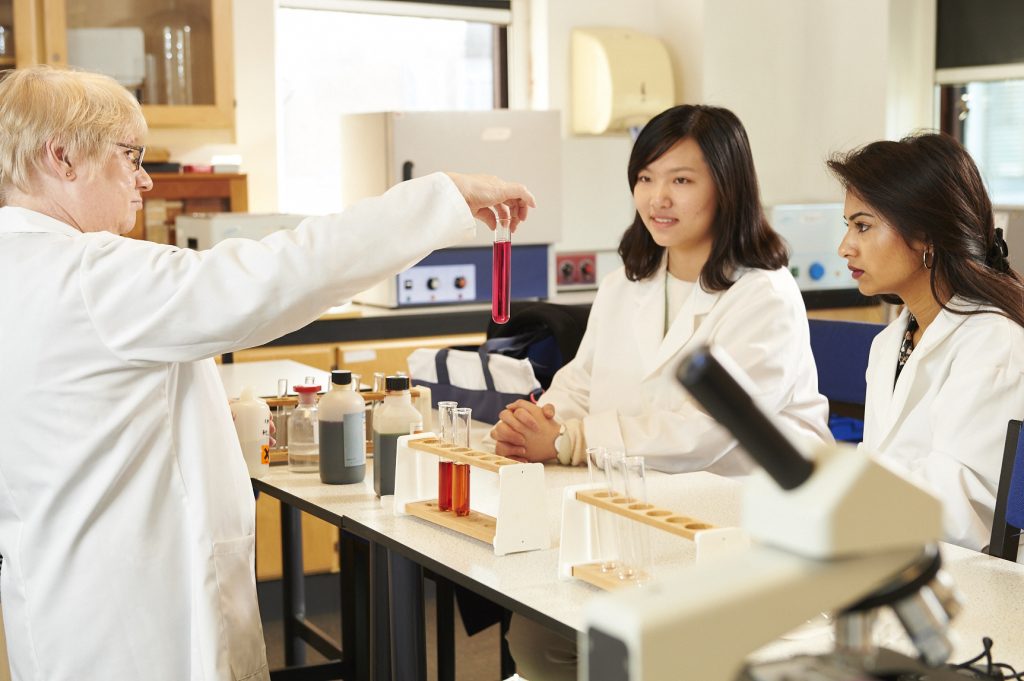 What A Levels will I need to study Chemical Engineering at university?
Like all Engineering degree courses, A Level Maths is nearly always essential. For Chemical Engineering it should also come as no surprise that Chemistry A Level is also highly desirable, as is Physics. To get into the top universities you will need to be getting A*s and As in at least one and usual two of these core subjects.
Many universities offer Chemical Engineering as a three year Bachelor of Engineering (BEng) course or a four year Master of Engineering (MEng)course. Besides the length of the degree, there is quite a difference between the two types of courses, so you must think carefully before you chose which one you want to do.
A Master of Engineering course allows students to specialise in certain types of engineering – like Chemical Engineering. The study is more focussed and in depth than a BEng course. Many graduates claim that it is easier to become a chartered engineer if you qualify with a MEng, and it's rumoured that some employers look more favourably upon those with a MEng than those with a BEng.
A Bachelor of Engineering course covers all the essential material you will need to qualify as an Engineer. The course is ideal for those who want an engineering degree, but don't necessarily want to become a chartered engineer. It is also suitable for overseas students as very often it covers enough ground to satisfy the requirements to become an engineer in their home country.
If your university offers both degree courses, they will usually allow you to swap from a BEng to a MEng after the second year, provided you meet the necessary academic requirements.
Where should I go and study?
The Complete University Guide 2014 lists the following universities as the best places to study Chemical Engineering as follows:
University of Cambridge – Department of Chemical Engineering and Biotechnology – four year MEng course.
Cambridge can and will ask you for the very best grades at A Level, so expect nothing less than A*AA. A Levels in Maths, Chemistry and Physics are essential, Further Maths is desirable but not compulsory.
Imperial College London – Department of Chemical Engineering – four year MEng course.
A typical offer from Imperial College is A*AAA or A*A*A at A Level, so you will really need to be at the top of your game. An A* in Maths is essential, as is an A* or an A in Chemistry. You will also need another A in one or two other relevant subjects including Physics, Biology, Economics or Further Maths.
University of Oxford – Department of Engineering Science – four year MEng course.
Expect nothing less than A*AA at A Level from Oxford. You must have Maths and Physics A Level and you're a* must be in one of those subjects. Further Maths is desirable as a third A Level.
University of Leeds – School of Process, Environmental and Materials Engineering – four year MEng or three year BEng course.
Leeds will offer you AAA at A Level. You must have Maths A Level and at least one of Chemistry or Physics.
University of Manchester – School of Chemical Engineering and Analytical Science – four year MEng or three year BEng course.
A typical offer from Manchester is AAA at A Level, which must include Maths, at least one science subject and another academic A Level subject.
Once I'm there what can I expect?
Chemical Engineering is essentially the design and application of sciences and maths to create processes that convert chemicals and raw materials into more useful and valuable products.
During your first and second year you will be introduced to some of the core cehmical engineering principals your degree course will be built on. You will study modules in Engineering Science, Mathematical Techniques, Process Analysis, Reaction Engineering, Process Dynamics, Properties Matter, Thermodynamics, Fluid Mechanics, Industrial Chemistry, Biochemistry, and Biotechnology. You will probably have quite a few projects to do as well, learning computer aided design and how to evaluate the technical, economic and social impact of what you do.
In your third and fourth year, you will deal with more advanced topics like Biopharmaceuticals, Modern Metrology, Particle Process Engineering. You will specialise further into your own chosen field, and you begin work on your major project. If you've chosen a degree course with a placement or a year abroad, it's here where you will embark down that particular road.
Like many engineering undergraduates, Chemical engineering is a lot of hard work. You'll put in a full day's work at university taking on lectures, tutorials and a lot of lab work. You will also be expected to read heavily around the subject in your spare time. It is a very demanding course, but also very varied, interesting and ultimately very rewarding.
What skills will I develop?
As well the very subject specific skills related to your course in general and your chosen specialty within that course, you will be confident n your own ability to steer a very difficult and technical project from the design stage all the way through to completion. You will be a fantastic problem solver and understand the legal, social and economic ramifications of your work.
Engineering is rarely a solo venture and you will have experience of all aspects of teamwork. You will a fantastic team player, but you will also be confident to lead a team of different individuals from different backgrounds through a project.
Also, it is more than likely that you will have at some point on your degree participated in one or more actual real life projects, so you will confident in your own ability to operate in the industry and know exactly what is expected of you. You will really be able to hit the ground running.
What will my career prospects look like?
Fantastic. As well as being the highest earning engineers, work is abundant. You will have all the skills and knowledge necessary to go straight to work in the industry.
Good luck!