For thousands of students across the country, August 15th is the biggest day of the year: A Level results day. There will be drama, there will be joy, tears, uncertainty for many. It won't matter how brilliant you are, how much you've revised, or how well you think you've done, it is only natural to feel nervous, anxious, and even little bit queasy! You'll no doubt experience several types of emotion throughout the day. You'll be excited, and unable to sit still. You might want to cry, scream, shout, or bury your head in the sand and hope it all goes away. But remember: you are not alone.
It's very important to be prepared on A Level results day. Although it's probably not nice to hear, you will want to be prepared in case things don't go quite how you expected them to. You might need to go into Clearing.  You also might do better than you thought, and in that case, you might want to apply to an alternative course at a better university. There are so many permutations on A Level results day that at times it can be a little bit over-whelming. But don't worry, we're here to help.
What to take with you
You need to be prepared for every eventuality. So it is important to be properly prepared.
• Fully charge your mobile phone the night before. And then don't forget it on results day. You might need to make a lot of phone calls during the day. It might an idea to bring along your phone charger as well.
• Bring your UCAS Track Login details. Whatever the outcome, you're going to need them.
• Bring all your important university correspondence. Especially the details of your Firm Choice and Insurance Choice. If you need to contact your university during the day, it's better to have all their details to hand.
• Buy a copy of The Daily Telegraph on the way in. The Daily Telegraph prints the official list of all the available clearing listings for the year.
• Bring a notepad and a couple of pens. You might need to jot down some numbers and names.
• Bring a bottle of water. It can be quite a draining day, and you don't want to dehydrate.
Now that you are all packed and ready to go, let's have a look at what might happen to you on results day.
You meet your requirements for your first choice university course.
Brilliant. Well done. All your study and hard work and sacrifice has paid off. You're probably feeling pretty amazing right now. Call you loved ones and bask in your glory. You are fantastic. Your A Level results have been sent directly to your first choice university, so your unconditional offer should appear when you login to UCAS Track. Your university will contact you via post. It's not unusual for your results to take a while to be updated on the UCAS website. If they haven't updated by Friday morning, then contact your university – they might not have received your results. Try not to contact your university on results day if you don't have to, they're going to be very busy.
You've done better than you expected and exceeded the requirements for your first choice university course.
Congratulations. Now stop showing off and listen. You have a very important decision to make here. You could just go on to your first choice university, and be done with it. Or, you could apply for another course at a better university. This is called Adjustment. You can register for Adjustment through UCAS Track, and you have five days to negotiate a place on another course at another university. The onus is on you to organise this. No one is going to do it for you. If you try adjustment and don't find anything you like, or don't get any other offers, you can still go back to your original course at your first choice university. For more information on Adjustment, have a look at this article.
Your grades are not quite as good as you needed them to be and you have not met the requirements for your Firm Offer.
First off, it's important not to panic. It might not be as bad as you think. There is still a decent chance that they will accept you. It all depends on how much you missed your offer by and how many other students have met the same fate. Before you do anything, login to UCAS Track, and if it says Unconditional, all is good: you have been accepted. You will probably want to call to put your mind at rest, but if this is the case, you're in.
If you've logged in to UCAS Track and it still says Conditional, you need to get on the phone to your university. Conditional means that they haven't decided yet. After speaking to you they may decide that they're going to let you in. If they offer you a place, ask for written confirmation. It will put your mind at rest and save any confusion later on down the line.
The final thing that can happen to you here is that your university does not accept you with the grades that you have. Once again it's important to stay clam, there are, again, many options open to you.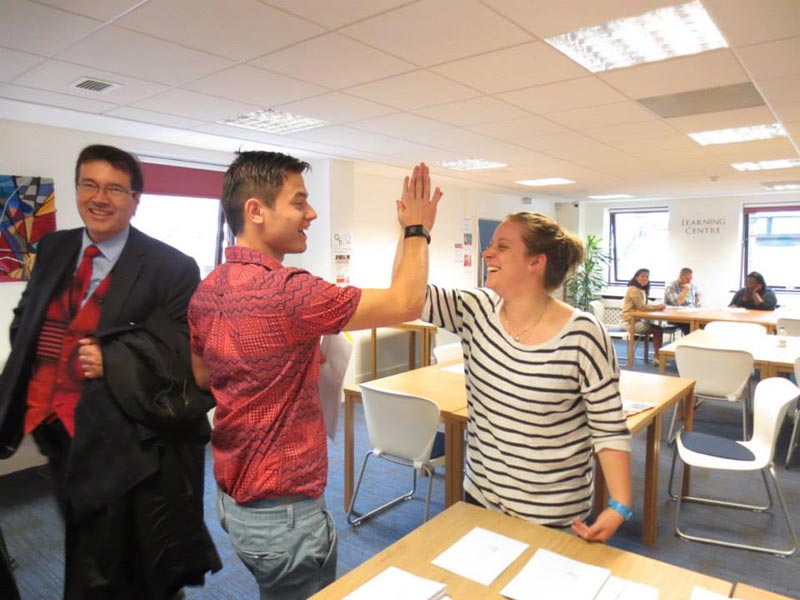 Your grades meet the requirement for your Insurance Offer.
Great news. In UCAS Track you Insurance Offer will show as Unconditional. Once again, all you have to do now is go home and wait for them to send you all the information you need.
You miss your Insurance Offer
Login to UCAS Track. The university still may have accepted you with lower grades. If your insurance offer says Conditional it means they are still undecided. Give them a call and see if they will accept you on the grades that you have. If they will accept you, ask for written confirmation. If they say no, it's time to enter Clearing.
Clearing
If you fail to get into wither your Firm Choice or Insurance Choice university, you are eligible for Clearing. You can approach any university that still have places by using the Clearing telephone number that will be on UCAS Track, and ask them if they will offer you a place at their university.  The eagle eyes amongst you will notice that this is where your copy of The Daily Telegraph will come in handy.
Resits
Still not got a place? Alright. Well now you will be thinking one of two things: You will have decided that university s not for you and you want to go and do something else. Or you are going to think about resitting one or two of your A Levels and bumping up your grades to get onto your chosen university course. And if you are, then DLD College London has got the course for you. A number of our students are enrolled on our One Year A Level Programme. It is perfect for students wishing to improve their grades, or wish to take up and complete a new subject within a single school year.
Good luck!