Our Foundation Programme in Music is designed to prepare you for undergraduate study at a Music conservatoire or university. It also gives a firm grounding in the study skills required to study in the UK.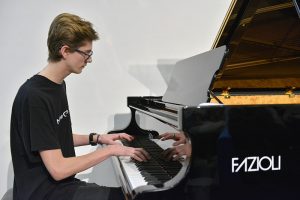 In addition to the common Key Components Strand, students will study the following subject components:
MUSIC SUBJECT COMPONENTS
MUSIC THEORY (FACULTY OF CREATIVE ARTS)
The ABRSM (Associated Board of the Royal Schools of Music) is one of the oldest and most respected examining bodies in the world and grade 8 theory is accepted by universities and conservatoires as an alternative to A level. Students will be taught Grades 5-8 music theory individually by our Royal College and Royal Academy of Music trained staff and are able to sit exams twice a year (November & March). Grade 5 theory is required before you can take practical music exams and UCAS points are awarded for grades 6-8.
Click here for more information about Music Theory Exams.
Harmonic vocabulary & modulation
Harmonic vocabulary & modulation
Four-part writing / keyboard style & figured bass
Completion of outline in given style
Score reading & focus on context