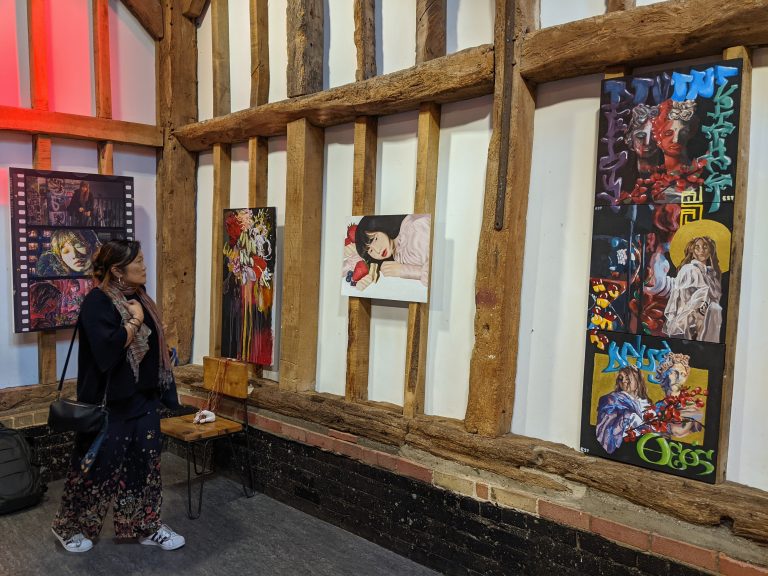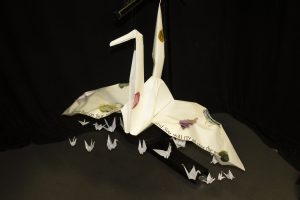 Our Art and Design department is a leading area within DLD College London. Serving over 120 local and international students each year, the faculty includes students from Year 9, Years 10 & 11 GCSE, two-year A Level courses in Art & Design, Photography & Graphics, and the International Foundation Courses in Art & Design and Fashion Design. Highly experienced teachers from the best leading Art Colleges deliver a nurturing atmosphere with individualistic tailored teaching. The teachers have brought a wealth of knowledge and experience to the table, and they are dedicated to nurturing the creative potential of each individual student. They continue to provide individualized attention and guidance, allowing students to develop their own unique style and voice. They are encouraged to experiment and explore new mediums, resulting in a diverse and exciting range of work.
The DLD Art and Design Department is not just about producing beautiful artworks – it is also about using Art and Design to address important social and environmental issues. The students and faculty are committed to creating art that has a positive impact on the world, and their work reflects this dedication.
One of the highlights of the academic year is the annual DLD Art and Design Exhibition, which took place in the new purpose-built exhibition space for the summer graduation. This exhibition provides a platform for students to display their artwork and projects to a wider audience. It's a fantastic opportunity for students to gain exposure and build their repertoire as practitioners in the creative arts.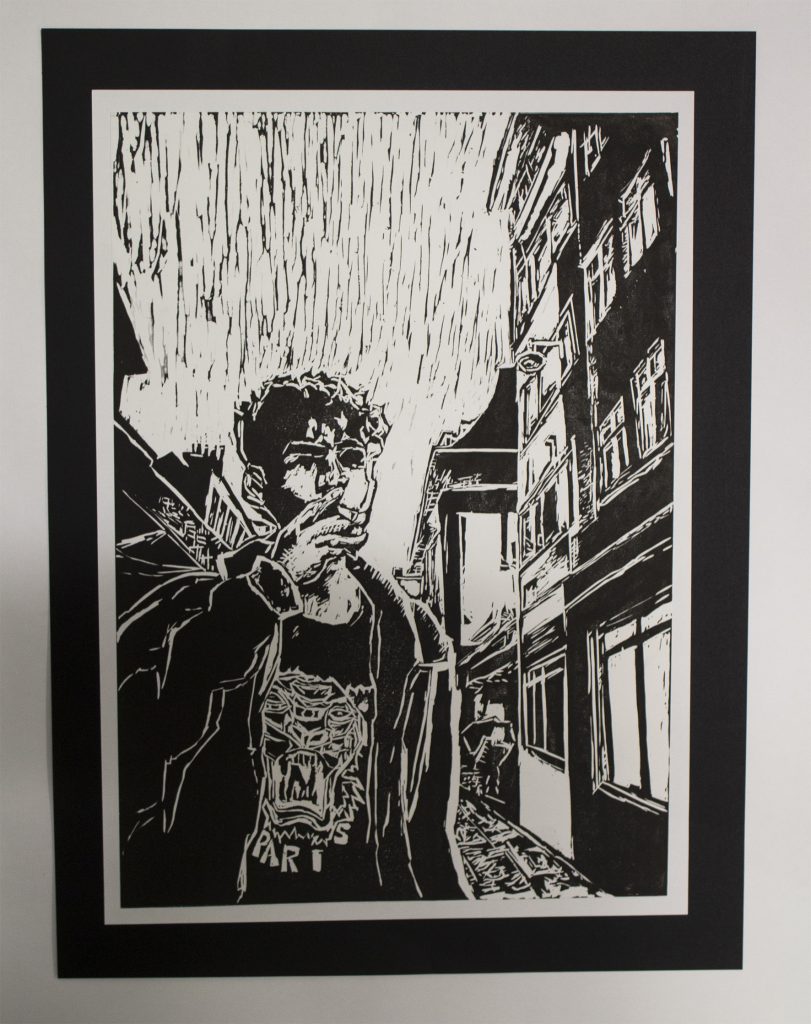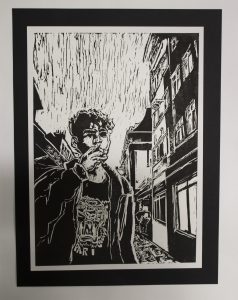 In addition to the grand final year exhibition, the department has also won a number of awards and competitions in the academic year. On the 4th of October, on behalf of DLD's Art & Design Department, Ben Clements, our leading practitioner in Fashion, Tara Garden, and Jonathan Parkhouse took a selection of our best student Artworks and entered them into the annual London West Area Independent Schools Association Art Competition at Norden Farm Centre for the Arts, near Maidenhead. We are extremely pleased to report that our submission resulted in 6 awards, including a first prize for drawing, 'Inner City' – black & white image printed onto paper by Nicola Yessimova was awarded the 1st prize in the most senior year category, Key Stage 5. Most pleasing was the fact that the awards were spread across six different categories, reflecting the strength and breadth of the Art & Design provision at DLD. This included awards in painting, drawing, printmaking, sculpture (created within the Graphic Communication A-Level Course) photography, and sketchbook categories, at Key stage 4 GCSE and Key Stage 5 A-Level.
We are extremely grateful to Ben and Tara for all the time and effort they have put into co-coordinating our submission.  Amongst many other awards were the ISA Community Art winners Aemilia C and Taylor B M, ISA Comic Strip Award – Zemfira N and Highly Commended Camille C, ISA Ancient Egyptian Art Competition – Highly Commended Arman A.
Art and Design at DLD College in London enables our students to access a diverse range of museums, galleries, exhibitions, art venues and events. We often collaborate with local galleries and organise local gallery visits as well as participating in workshops run by professional artists, exposing our students to unique experiences. The most frequently visited practical workshops are: Introduction to painting techniques, Digital ADOBE Photoshop, Digital Illustrator, Creative drawing, Graphic Animation, Introduction to printing making. We lead in creativity and technology whilst delivering a programme of in-depth practical workshops and an array of extra-curricular programmes.
Throughout the year, we have focused on developing our students' artistic skills and techniques. The multi-faceted nature of Art allows our learners to explore an endless array of processes such as drawing, digital applications, painting, printmaking, photographic imagery, textiles, 3D construction and mixed media. It is a fascinating and rewarding subject that allows our students to use their imagination and creativity, whilst acquiring a range of skills, abilities and directions in Art and Design as they engage with the world in a visual and tactile way.
In 2023, the department hosted a number of workshops and masterclasses, led by industry professionals in fields such as Fashion, Graphic Design, Photography and Fine Art. The Art Department at DLD hosted The Savannah College of Art and Design on the 13th October. We welcomed Michael James O Brien, Artist and Head of Photography at SCAD and Olivia Anderson, the co-director of European Admissions. O'Brien has worked with world renowned Photographers like Duane Michals and fashion designers including Rei Kwakubo and Azzedine Alaia. We are extremely grateful to Andy Knight and Jonathan Parkhouse for all the time and effort they have put into co-coordinating.
We strive to stay current and actively involved in creativity and technology. We are an ever-expanding department, embracing the ever-developing digital world. We successfully achieved the ISA award for excellence and innovation in Art and Design 2022. I am pleased to inform you that our school has been awarded 'Highly Commended' in this category. The judges felt that our entry was worthy of high recognition. Ben Clements co-ordinated the Digital Art and Film ISA awards this academic year and I am very pleased to announce that Yunlu Bai has been awarded first place and Doga Denizer has been awarded second place for KS5.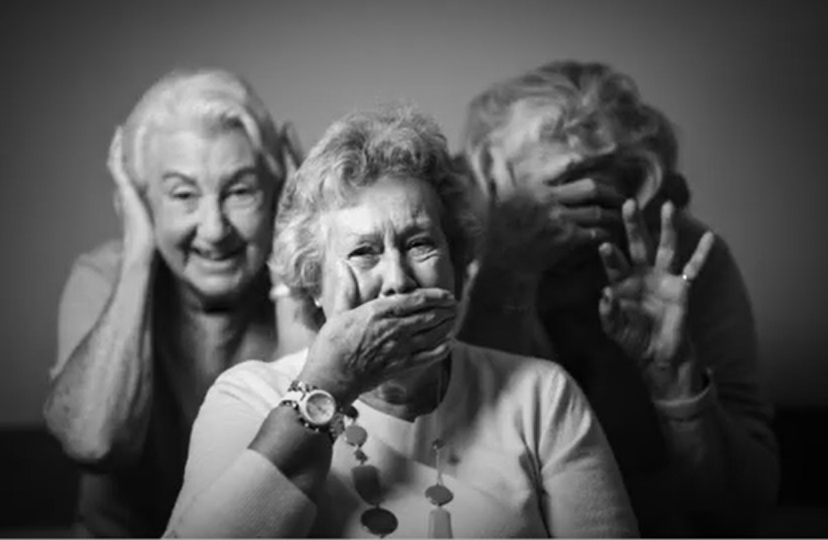 It is with great pleasure to congratulate A Level Art & Design students, Aemilia C and Taylor B M, for being awarded second place in the ISA Community Art Competition! Competing against many other schools and colleges and with hundreds of applicants, this is a huge accomplishment. Aemilia engaged with her local Parkinson's community to support Parkinson's Awareness. With her work she hopes to raise awareness about Parkinson's and her local community.
Speaking to Aemilia, she told us:
"I was invited to take portraits for the Parkinson's Foundation. Parkinson's is a degenerative disease that affects the brain.
It causes problems like shaking and stiffness that get worse over time. The main symptoms of Parkinson's disease are shaking (tremors), slow movements and stiffness. Treatments for Parkinson's disease include therapies to help with movement problems, medicines and sometimes brain surgery. Parkinson's disease is caused by a loss of nerve cells in part of the brain. It's not clear exactly why this happens and can strike anyone down. Famous Parkinson's sufferers include the actor Michael J Fox, the rockstar Ozzy Osbourne and boxer Muhammed Ali.
I knew this would give me the opportunity to document some interesting personalities and capture interesting portraits, but the wider thought was to capture the community, camaraderie, and compassion which the Parkinson's foundations brings together.
I could have spent hours speaking with each subject, as each had a wealth of stories to tell. The subjects were both of an age and had experienced much of life, good and bad, to the extent they really did not care about having their photos taken in the same way that young people do. Rather than being old and shy, most were quite liberated, and I think this shows in the images.
The people that I photographed looked physically meek, mild, and tired, but mentally they were strong and tough. They continue to fight on. Our main goal that I wanted to achieve by the end of this shoot was to capture their souls and personalities in such little time I had with each person, I also wanted to capture the connection I had with each person. I was interested the in abstract images more than the formal portraits. All the people that I photographed didn't seem to mind that they were having their photo taken, they all have a so what approach to me taking their photos. They aren't phased by anything that happens as they have been through so much in life."
In the summer term DLD students were invited to Somerset House for Photo London the largest Photographic show staged annually in London. On Thursday 11th of May, the Year 12 Photography students were given a talk by SCAD (Savannah College of Art and Design) to spend the afternoon looking at the range of Photographers, Publishing Houses and Galleries works. The work extends from the original black and white prints of Irving Penn to the colour layered work of Emma Creighton Hopson. This year the Master Photographer showcased was Martin Parr. The students were fortunate enough to hear him talk through his exhibition of over 50 years of work. Plenty of Union Jacks, beaches, and ice creams. It was clear from the student's feedback that what they saw would inform their future coursework ideas and how they see their place in the Photographic arena. The visit reinforces our on going links with SCAD and we are particularly grateful to Olivia Anderson and Michael O Brien for extending the invite to our students to see this prestigious show of talent.
I am proud of the progress our students have made and to see such great progression throughout the academic year. Students receive expert guidance and support when applying to various post A Level courses in world renowned Art Colleges, with students graduating to further study in London, Europe and internationally. This year candidates have been successful in gaining places at Colleges include the University of the Arts; Central Saint Martins, Chelsea, Camberwell, Wimbledon, The London College of Fashion, and The London College of Communication, Goldsmiths, Kingston, Ravensbourne, City & Guilds, Parsons school of design, Istituto Marangoni, London and Milan, Parsons, New York, Ringling, USA and various other prestigious provincial and international Art Colleges across the world.
The students have shown a great deal of creativity and enthusiasm for the projects we have worked on. They have demonstrated strong problem-solving skills, an ability to work collaboratively with their peers, and an eagerness to learn and experiment with new techniques and materials. In addition, I have been impressed with the level of dedication and commitment that our students have shown to in their work. They have consistently met deadlines and have taken on additional challenges outside of class to further develop their skills and experience.
I am confident that they will continue to grow and develop as artists and designers in the near future. We would like to thank our talented cohort on another successful year, and we wish them the very best over the summer holidays.
Find out more about Art & Design at DLD College London.
Jack Chester, Head of Art