Electronic Sports, or Esports as they are more commonly known, are organised video game competitions. Esports players compete in teams against each other in tournaments that are watched by fans live and online. Professional Esports players often compete for cash prizes.
Esports is a fast-growing industry that is driven by the increased immersion and engagement in the digital world. Incorporating Esports into the school curriculum is allowing educational institutions to offer students an educational and vocational learning opportunity that is setting students up for the careers of tomorrow. This article will give insight into the benefits and opportunities to studying the Pearson BTEC Level 2 Award in Esports at DLD College London.
Why study BTEC Esports at DLD College London?
Esports is a hugely popular recreational activity amongst young people with many aspiring to work in the global Gaming and Esports industry. The British Esports Federation is leading the way in Esports education through tailored courses that nurture students passion into valuable skillsets and in turn, prepare them for careers within the Esports and linked digital industries.
Esports education facilitates the development of key transferable skills such as problem solving, teamwork, leadership, analytical thinking, and decision making to name a few. This makes it a valuable course choice for any student that is interested in the subject.
Research shows that taking part in extra-curricular activities boosts students success, Esports is bringing this theory to the classroom through the positive, exciting, teambuilding environment it creates. Esports is truly inclusive, meaning that anyone can take part, making space for students that may have previously been overlooked in a traditional curriculum and celebrating successful teamwork outside of sport, art and music. This environment helps students to build positive relationships and nurture a passion that may lead to a successful career in the Esports industry.
DLD enjoys an enviable location for those interested in careers in Esports, surrounded by innovative tech start-ups and a digital-first culture in the heart of London. Our purpose-built campus is well-equipped with the latest educational technology and offers state-of-the-art facilities that support the innovative learning you would expect when you study in London.
What Careers can it lead to?
Esports offers a wealth of career pathways. The Prospects.ac.uk website has a wealth of information on what careers students can enter after finishing a degree in Esports.
DLD College London's BTEC Esports students are prepared for careers in STEM and Business industries. The British Esports Federation suggests links to careers in Cyber Security, Software Development, Virtual Reality and so many more, including roles specific to the Esports industry.
The skills developed through BTEC Esports can enable students to secure a variety of business industry roles in areas that include marketing, sales, events, design and development, this could be within the gaming industry or generally.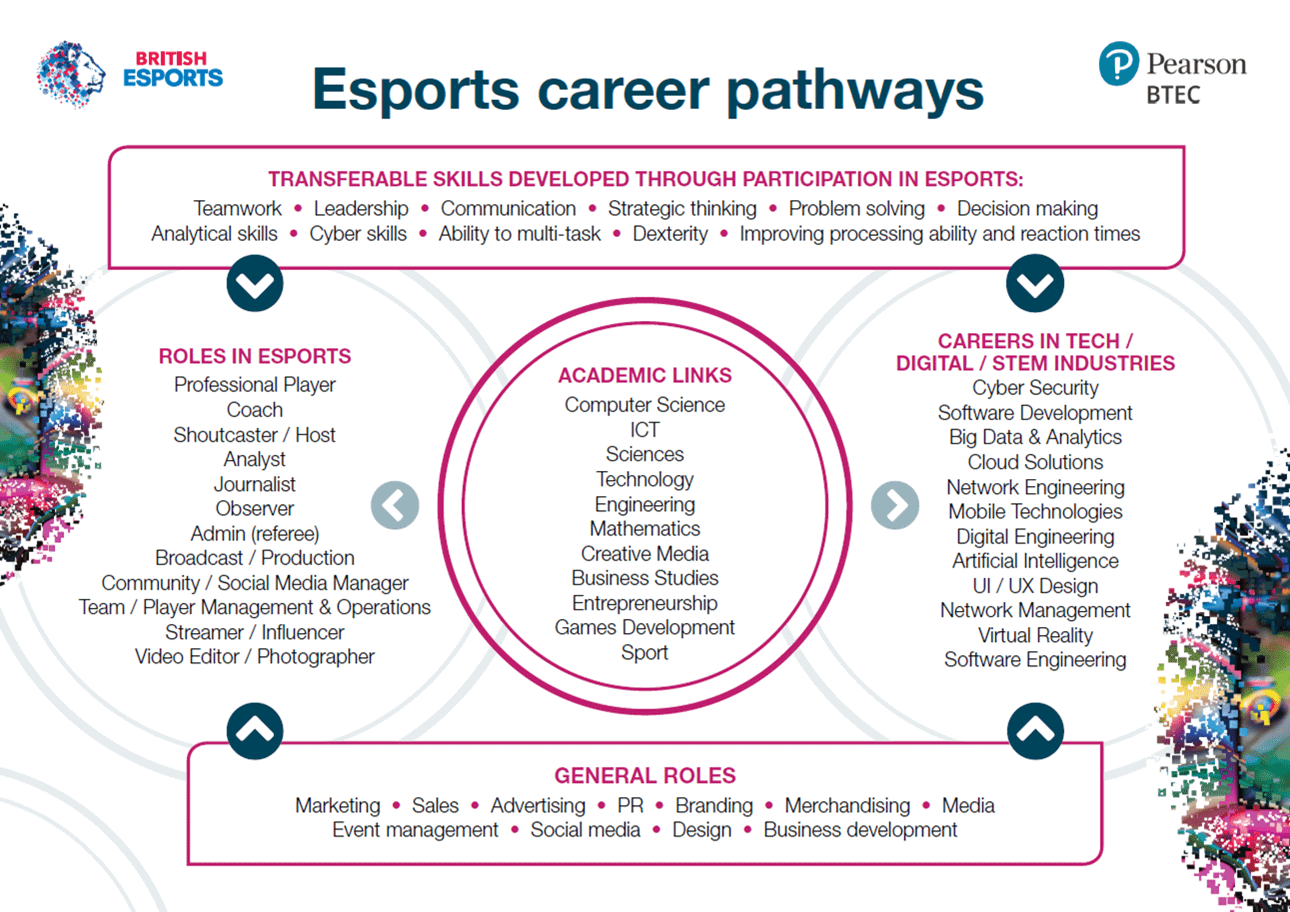 For those who wish to have a career in Esports, there are a variety of departments to choose from. The British Esports website lists some typical Esports roles including:
Professional Player – for those who excel in gaming, there are roles where you can compete in tournaments for prize money. Wages differ depending on league, experience, sponsorships, but professional players have the opportunity to earn large salaries. Players are usually signed to a team through scouting in tournaments, and are noticed through high ranking results and skilled gameplay.
Team Manager/Owner – like any management role, this job can vary and is likely to have lots of responsibilities. This can include scouting talent, entering tournaments, motivating team, developing the team brand, overseeing contracts etc. Depending on the scale of the team and organisation, job roles may be distributed across other senior roles.
Analyst – experts in the game. Analysts roles are for those who love data and problem solving. They are tasked with analysing the game to better their teams performance.
Coach – working closely with analysts, the coaches generate strategies using the analyst's findings to iron out strength's and weaknesses with their team and the competitors. Coaches need to have good relationship skills in order to work with the players and ensure they are working to their best.
Shoutcaster/host – like most sports, Esports needs a commentator to provide running commentary during live matches, interview players before and after games, and provide entertainment. Hosts will usually have a strong personality and good communication skills.
At DLD College London, we currently offer BTEC Esports to our GCSE Students and it is therefore studied alongside a range of subjects. Subjects such as ICT, English and Mathematics provide core skills and understanding to excel in Esports, and these skills will be developed further throughout the programme.
Students studying on DLD College London's Pearson BTEC Level 2 Award in Esports are likely to progress onto A Levels or BTECs including (but not limited to); Computer Science, Engineering, Creative Media, Business Studies, Game Development and Sciences.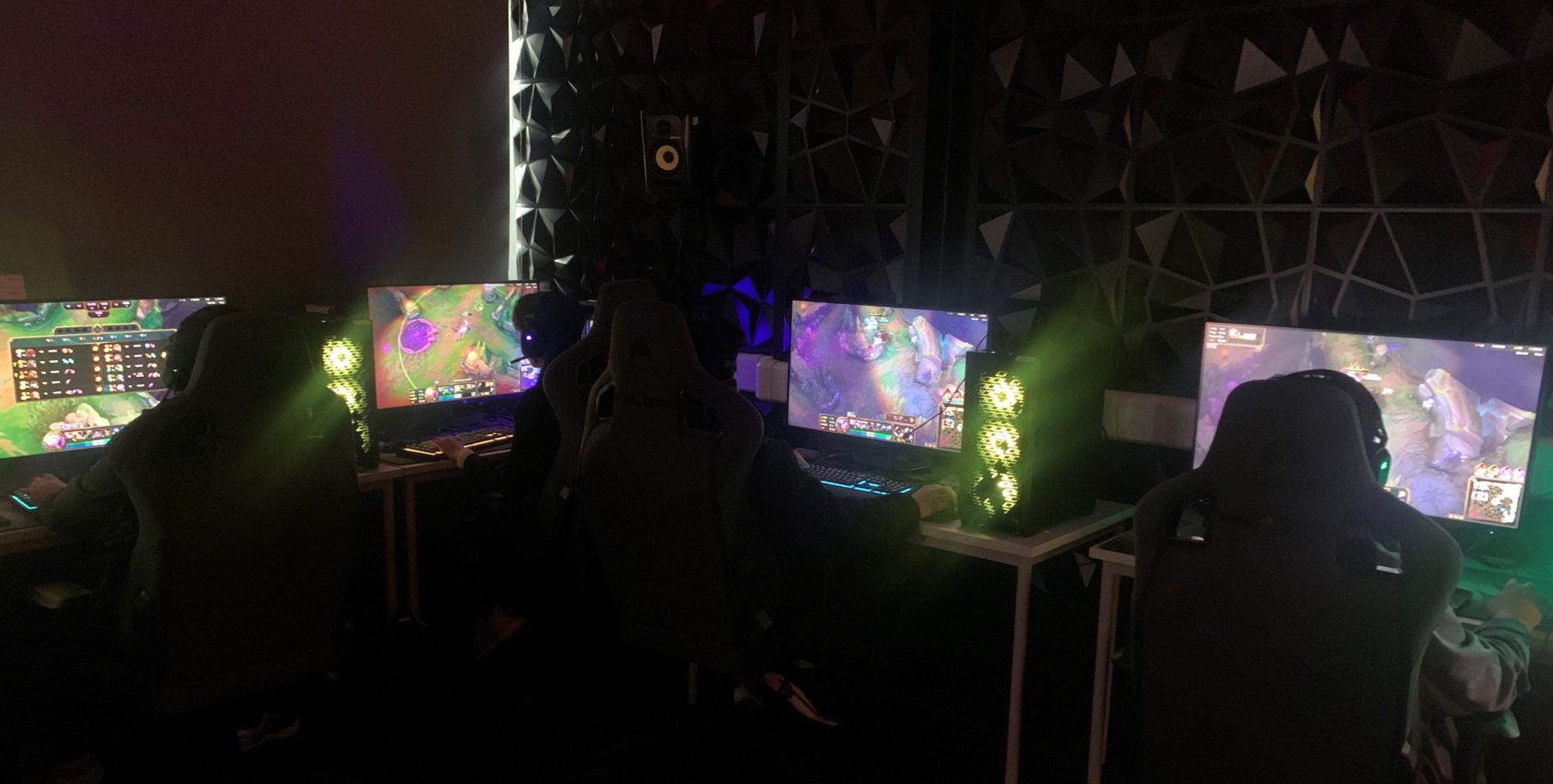 What University courses can Esports lead to? Do we have any links with universities that offer Esports?
Staffordshire University was the UK's first university to introduce an Esports Degree in 2017 as well as a Masters, focusing on the business and event management aspects of Esports. Since then the demand for non-traditional subjects has increased with universities across the country launching Esports and Gaming Degrees.
College of Esports (CoEs) is a newly established Higher Education institution focusing on the business of Esports in Stratford, London. DLD College London have direct links to CoEs though the British Esports Federation.
What are the top Higher Education Institutions for Esports?
According to The Complete University Guide, the best UK universities to study a degree in Esports are:
What are the entry requirements for an Esports Degree?
With Esports being relatively new to education, forward-looking, vocational universities are driving the launch of Esports in education. These universities tend to accept applications on a UCAS tariff point basis which is currently around 112 from at least 2 A Levels or equivalent qualifications such as BTECs. This translates to students achieving A Level grades of BBC-BCC with all universities expecting applicants to have obtained their GCSE English and Maths with a grade of C/4 or above.
Entry requirements for Esports degrees will of course vary, so for specific entry requirements advice, it's worth checking UCAS.com (the Universities and Colleges Admissions Service website).
What salaries do Esports professionals receive?
The most successful professional Esports players often earn more than athletes in many traditional sports, but there are also a wider range of careers that are available to pursue in the Esports industry. These include careers in management, broadcasting, information technology, human resources, journalism, operations, sales, coaching, operations, marketing and public relations, and social media. Glassdoor.co.uk calculates the average Esports salary in the UK is £33,865 per year
Esports is one of the quickest growing industries, so new jobs are being created all the time.
Want to learn more?
We are delighted that you are interested in DLD College London
The best way to learn more about our special and unique college is to contact us to arrange a visit.
We look forward to welcoming you.
Get in touch today