As we enter the final few weeks of the academic term, now is a fantastic opportunity to reflect on the successful of the Esports programme at DLD College London, in both the academic and co-curricular spheres.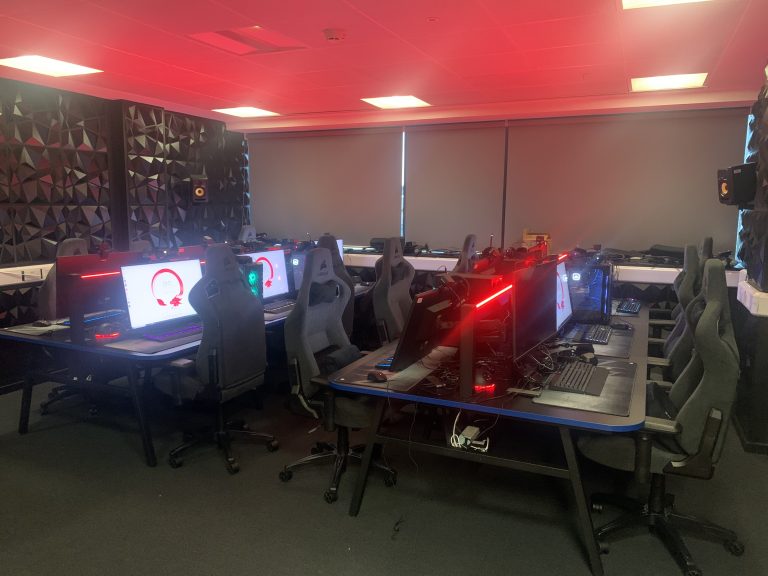 This summer saw the creation of our spectacular Esports room, the Dragons' Den.  The room is the only school Esports area to be fully equipped with Corsair and Elgato equipment, which has allowed for seamless student experiences.  The Dragons' Den has been set up with 12 student PCs, all of which are equipped with top quality streaming technology, and 1 teacher station, which is fully equipped for shoutcasting as well.  Customised furniture has also been created for the room, with the desking solutions and ambience of the space further adding to students' enjoyment and experience.  The room has been created to enhance student engagement and their experience of Esports, which has allowed their education to be enjoyable and memorable.
The academic Esports cohort, studying Pearson BTEC Level 2 Skills in Esports, have begun the course well and have recently submitted their Unit 1 Learning Aim A – with all students having gained a strong insight into popular games within the Esports industry.  The cohort will gain greater understanding of the Esports industry, as they study the teams and tournaments that take place throughout the remainder of Unit 1.
The co-curricular, DLD Dragons, have started their entries into the National Student Champs very well also.  The Valorant team is undefeated this season and has beaten some of the outstanding teams from last year's competition.  The team has qualified for South Division 1 and have continued to be dominant in all fixtures they have played.  The League of Legends team performed strongly throughout the Swiss Qualifiers last half term and were competitive against some of the finalists from last year's Division 1 competition.  The team has qualified for South Division 2 and are unbeaten in their regional group, showing themselves as contenders in the Division.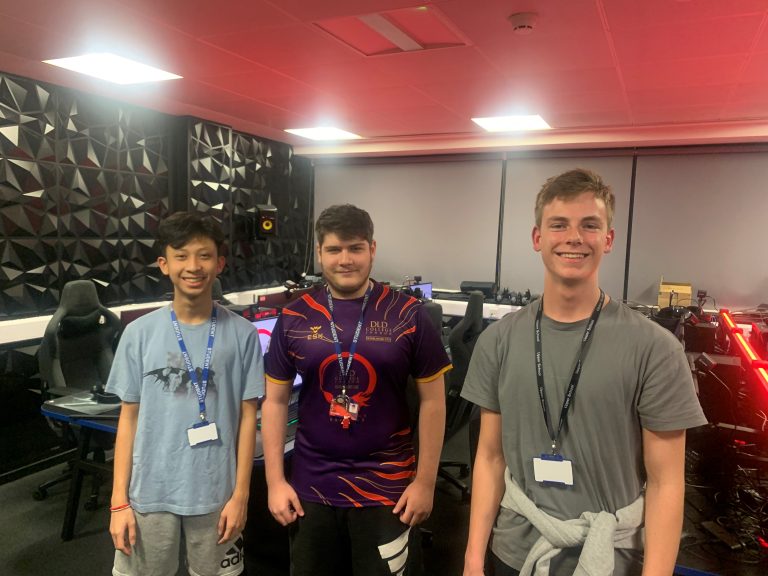 Esports is a truly inclusive subject and the DLD Esports programme has proven this, with students in every year from 10 to 14 being part of the programme.  All of these year groups are mixed in undertaking practical activities and attending trips, such as trips to view the newly opened College of Esports, which DLD has formed a relationship with, and during the practical activities which took place during the Druid Gaming Live event.
'I have enjoyed my experience studying Esports and the Esports room is really cool.  I like the comfortable chairs and LED lights.  There is a lot of work in the BTEC Esports course but the teacher is nice, helpful and understandable.'
Haya A, Y10 BTEC Esports student
'The Esports room is a very cool environment and this motivates me to want to work.  It is comfortable, with a good and helpful teacher.'
Skye T-G, Y10 BTEC Esports student
'First when I signed up to the Esports club I was quite worried whether I was qualified enough to take a spot in the Esports team or not, I was worried to drag the team down. However, I quickly found out that in the Esports club no one was quick to judge, and we quickly grew to understand each other while bonding over our shared opinion about the games we played. It's place where I can train my teamwork, communication skills as well as my problem-solving skills. We go to the Esports club also called the "Den" (based of the Dragon´s Den, our team's name) 3 times a week, that allows us to have 2 training days a week where we come up with new strategies and try out different ideas, its great how everyone is coming up with new solutions and ideas to try out, allowing us to steadily improve our game. When we are not training, we are having a fixture, those games are really important for the team and us personally seeing as we want to perform as good as possible, and we take pride in bringing our school to the top. Furthermore, the Esports club allowed us to meet new people we would likely not have met otherwise, making new connections and great friends who share similar interests. I think of Esports gaming as a way of education, it is a great way to teach younger and older people while also keeping them focused and interested, in a society where we are getting more and more digitalised this might be an early step into the future of teaching.'
Roy A, DLD Dragons' Valorant Captain
The Esports industry has flourished over recent years and it is beginning to do the same in education as well.  DLD has invested to ensure students have the possibility to be involved in the field and develop the plethora of transferrable skills available from being involved in Esports.  Everyone involved in Esports and the Department of Film and Media look forward to its continued development at DLD.
Max Copley, Esports Lead