"It is not a matter of age or nationality; it is the matter of being a creator or being in love with creators" – Matin R, Year 12.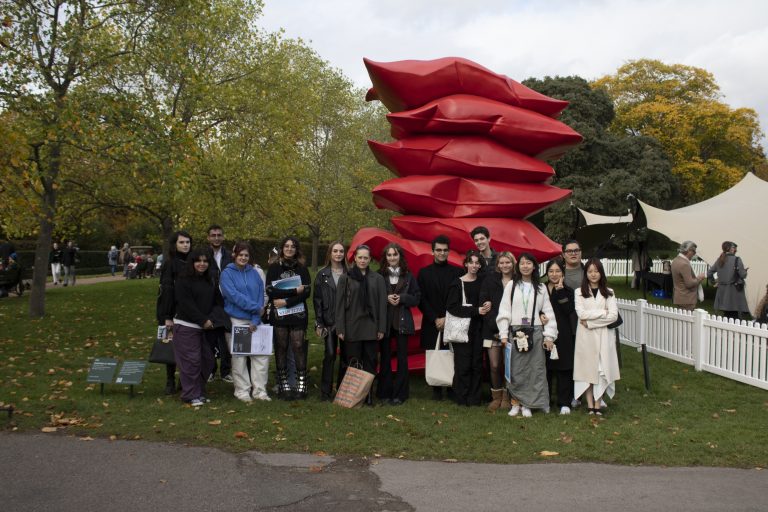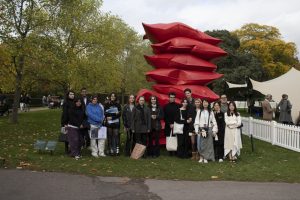 On the 15th of October the Art and Design department went on a school trip to the London Frieze Fair.
The Frieze London fair was held in Regent's Park and included contemporary and historical artwork from around the world. It allowed students to engage with work, which was dynamic in method of concept, and subjects that challenge traditional boundaries and defy easy definition. We explored some of the best artworks and galleries from a diverse range of collections.
"From abstraction of colours to calligraphed words of a poetry on canvas, from statues, which might not be dead myths but more alive than the photographs on the walls. It is hard to summarise Frieze in a couple of words, the same way it is hard to describe every single art technique without missing out on a couple. But maybe that is what it was, one of the most diverse art exhibitions that one can visit and be inspired by the creators." – Matin R, Year 12.
The Annual highlights included the temporary sculpture park in Regent's Park and Frieze London featured over 160 established leading artists. The exhibition celebrated London's diverse cultural heritage and international global reach. It brought together some of the most current exciting practices from established to emerging artists. The diversity of work from acrylic paintings to immersive digital installations captured the imagination of our creative students.
After visiting Frieze London, we ventured through the autumnal sculpture park. We got a sense of the fair's magnitude as we viewed the monumental sculptures, which showcased statues, installations of many sizes and medium. We then journeyed through the labyrinth of the vast sculpture park to Frieze Masters.
Frieze Masters featured over 130 of the world's leading galleries. The exhibition exhibited artefacts of prehistoric dinosaurs from the Middle to Late Triassic Period of the Mesozoic Era, some 230 million years ago to ancient antiquity right up to Modernism.
As students walked through six millennia of art, we soon became fully immersed as we roamed through the cultural capital of human history.
The abundance of ancient antiquity, Old Masters and iconic works of the 20th Century allowed us to reflect from the past right up to the present.
"The beauty of the Frieze art exhibition is that it passes the borders of day-to-day discussions and brings together artists and creators in the same place so they can express their artworks in a public space and be inspired to create even more. It is not a matter of age or nationality; it is the matter of being a creator or being in love with creators; that is enough to enjoy every inch of Frieze to be inspired and fascinated." Matin R Year 12
The exhibition will provide a great opportunity for students to engage in contemporary and historical practices in Art. This year's Frieze Art Fair has given off signals, of great opportunity, optimism, and society's voice. We now eagerly wait for the next 2023 Frieze London Art and Design trip.
Jack Chester, Head of Art and Design