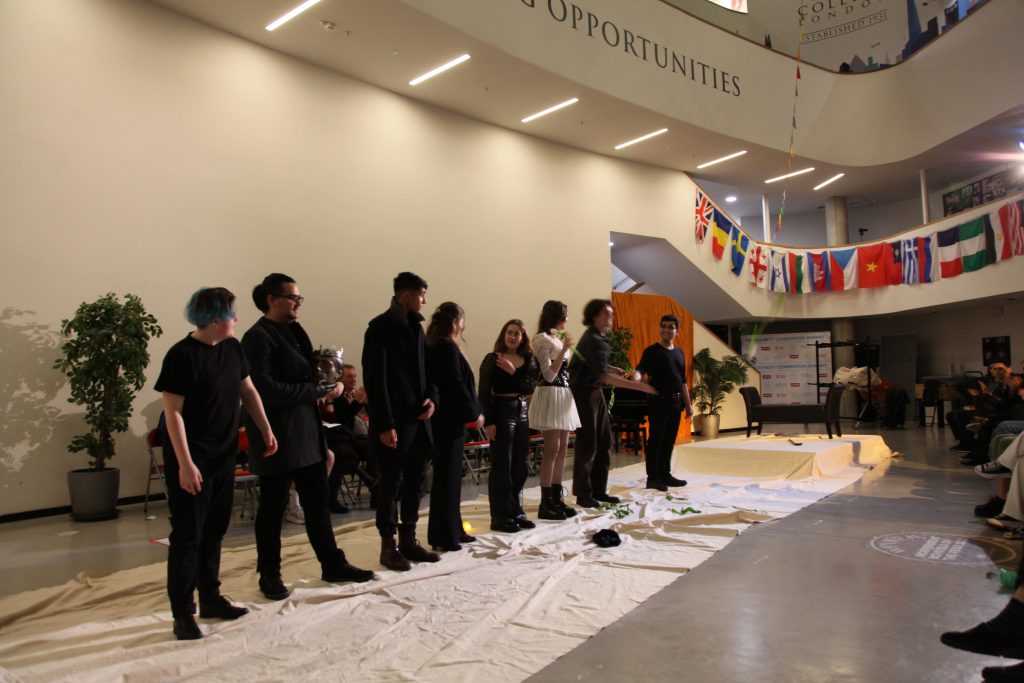 Imagine a world where Shakespeare's bloodiest King and his most star-crossed lovers occupied the same time and place. Themes of love and death collided on Wednesday evening as the DLD Drama Club shared their production of 'Macbeth X Romeo & Juliet'.
We saw two worlds compete for the attention of the audience as the 'mashup' between both stories revealed that the two plays have more in common than what it first seems, while exploring new links as they come together as one.
Taking over the Atrium and performing to a packed house, the students from all year groups of the College, with all different levels of experience, told the two stories in such a way that the audience was entranced. The ending of both tragedies left many with a tear in their eye and the crowd showed their appreciation with rapturous applause.
Doing one Shakespeare play is not easy but doing two at the same time is a Herculean task! Nevertheless, this cast put in the effort and showed the audience what innovation, creativity and commitment can create.  Well done DLD Drama Club!
This innovative production has been developed from scratch by the company in rehearsals.
The Company
Max B – Romeo
Dorsa D – Lady Macbeth | A Witch
Jane E – Mercutio | Balthasar | A Murderer | Prologue
Nima P – Macduff | Tybalt | Nurse | A Witch
Ishaan Patel – Macbeth
Matin – Friar Lawrence | A Witch | A Murderer
Noelle – Juliet
Noa – Banquo | Ross | Seyton | Macbeth Prologue
Colin – Stage Manager | Technical Manager
Mark Johnson – Director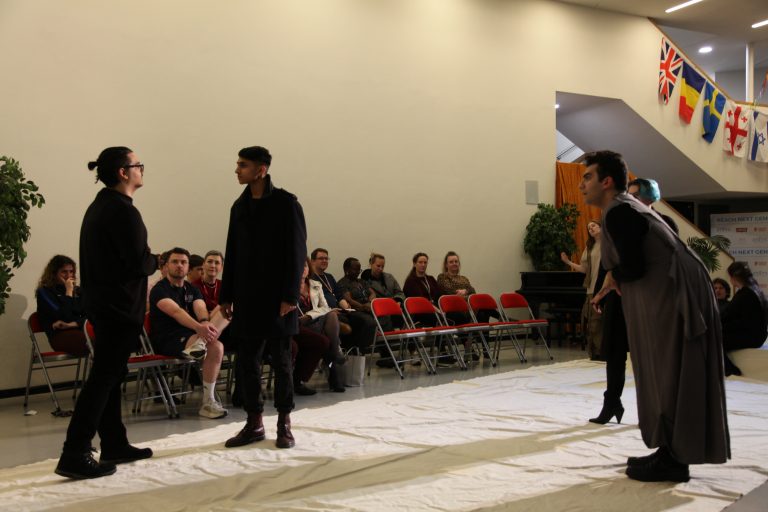 The Drama Club and its production are a place where any student at the College, whether they are the most experienced performer or have never set foot in a rehearsal room before, can work together to build, rehearse and stage a production. Games are played, ideas are heard and explored, and the outcome is a piece that could only have been made by these people. This year, that meant that the audience was presented with not one Shakespeare story but two, as the company tried to weave together the themes of each play to see what happens when they are put next to one another.
The Drama Club is a club that invites its members to bring the best version of themselves and support each other creatively and personally as an ensemble theatre company.
Mark Johnson, Head of Drama