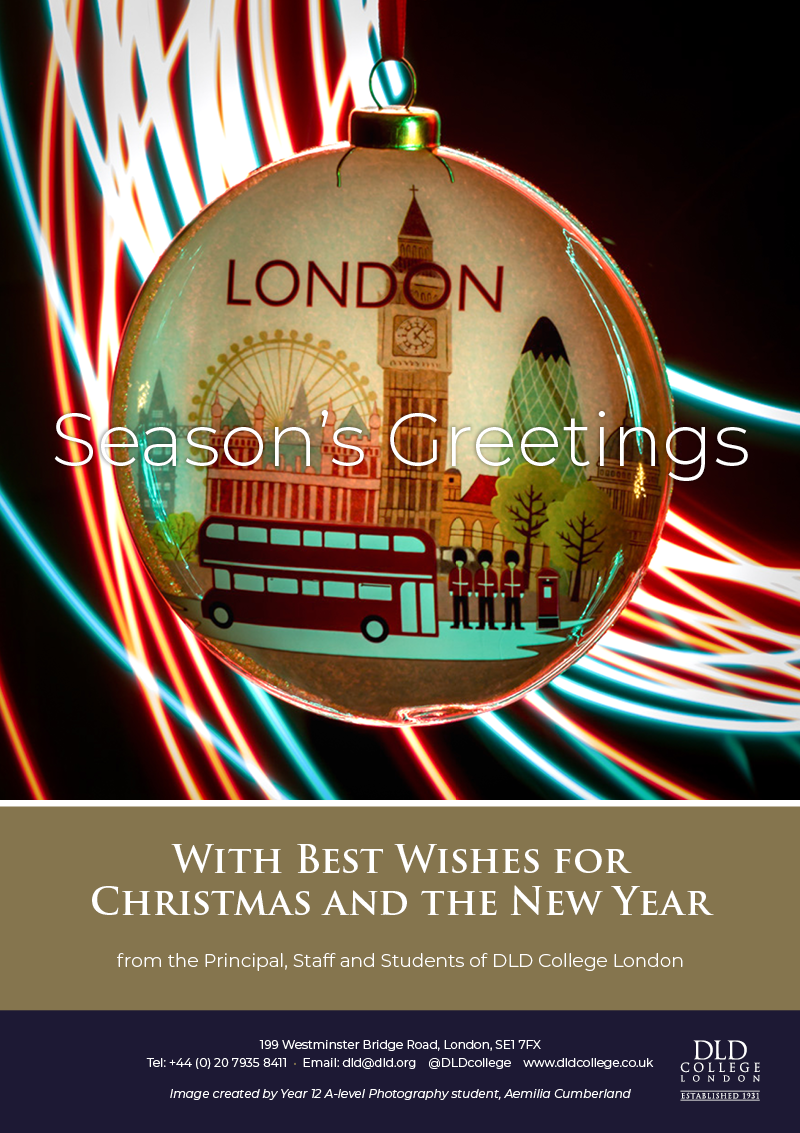 And so another Autumn term comes hurtling to an end. I have always defined the arrival of the end of this term by the completion of reports (and Christmas cards), and this year, it has certainly come early … then I remember that the majority of the world does not break up for a week yet, at least, and that I should pipe down a little. It is, after all, Friday the 10th.
It is always an oddity of schools like ours that the Christmas tree goes up at the end of November and the Christmas lunch occurs in the first few weeks of December. In fact, this took place yesterday, and the lunch was stunning – my compliments to our Chefs extraordinaire, Oliver and Clive and the entire Global Kitchen Team. And by the time the month is half over, I will have attended three carol services, attended a nativity, had the Christmas Spotify playlist on repeat, eaten innumerable mince pies and drunk a fair amount of mulled wine. My 'bah humbug' traits can rise to the surface, just as much as they do as Christmas advertising hits our screens almost as soon as the previous year stopped (or so it seems). But the festive spirit eventually holds sway as it always does: fuelled by images for example of Christmas Jumper Day, Christmas Lunch, the Winter Awards Ceremony, Secret Santa and of course, the DLD Christmas Party – a DLD tradition, where the boarding community put on their Sunday best and celebrate the end of term in College with festive activities, bucking reindeer (don't ask!), mince pies and lashings of hot chocolate! This just further demonstrates how strong (and fun) the DLD community is, and I thank all our selfless Houseparents for putting on such a great event last night and for making boarding what it is at DLD – a true home from home
A true diehard Scrooge would have been hard-pressed to avoid a sense of festive occasion at our Awards Ceremony early this week. My thanks go to Sean, Paul,  Mike,  Marie, Richard, Rachel, Richard M, Sarah, Maria, the DLD Rock Band ('Snow Blind'), and our super-talented performers Jimmy and Hayek. They took to the stage with such passion and verve to entertain and celebrate a successful term.
I want to take this opportunity to thank all our excellent staff (and Governors) for their commitment, hard work and dedication in ensuring that DLD remains at the top of its game, both pastorally and academically. From the ELT and SLT, HMs, HoDs and SLs and all the teachers at the chalkface who inspire and motivate our students every day to seize the various learning opportunities on offer here at DLD. Our vision is to 'Create Unique Learning Opportunities' for our DLD community, and the new Structure of the Day has put CCAs at the heart of what we do. This is what we celebrated this week as we continue to provide an all-round, holistic education to help our community grow, develop and learn.
And our brilliant support staff, without which DLD will simply not operate – thank you. I am indebted to all of our staff and Governors whose professionalism and work ethic shines through everything they do. We are lucky to have such a warm and friendly common room and a supportive Governing body.
Despite the various challenges in place, there have been several highlights this term. There are far too many to list, but I'll give it a go – our outstanding exam results – the best the College has seen in its 90-year history, the new House System (District, Jubilee, Metropolitan, Northern, Piccadilly), the numerous national awards we have won and been nominated for in boarding, wellbeing, mental health, pupil voice, pupil development, equality, diversity and inclusion and pupil experience; the poignant Remembrance Day Service, the special Winter Awards Ceremony; College, House and Premiership football, netball, ice skating, Duke of Edinburgh, Global Kitchen, Black History, milestone tests, Open Evenings (virtual and face to face), Oxbridge interviews (good luck to our candidates), The Lion King, Go Karting, Royal Albert Hall, The Women's FA Cup Final, Christmas Lunch, Movember, Charities Committee….and I've only just scratched the surface.
After all, in the midst of all that goes on in this fine institution of ours, it is the community spirit that matters and the willingness of students and staff to put themselves out on behalf of others, both within and beyond DLD. In a year that has seen real challenges both locally and nationally due to the pandemic, those core values of tolerance, respect, academic curiosity, community and kindness, which underpin all that we do, have remained paramount. We have seen them in abundance, again and again, this term.
We also bid farewell to some staff who will be leaving us at the end of this term, and I want to take this opportunity to thank them for their loyal service and all that they have done to make what DLD is today. Departing staff include Andre Kristensen, Niviene Azab, Sara Meeajan, Ed McCool, Jonathan Maynard, John Branney and Tom Hadcroft. We wish them well on their respective adventures.
So, at this time of year, as we come together to celebrate the annual festival commemorating the birth of Jesus Christ as a religious and cultural celebration, it seems a good place to pause and wish you all a very Merry Christmas and a safe and Happy New Year.
Best wishes
Irfan Latif
Principal