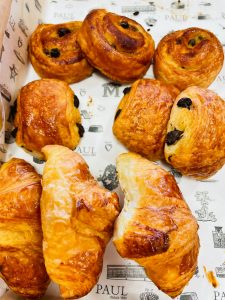 It's been a jam-packed half term (where did September go, I hear you ask!) with various activities, Open Evenings, World Mental Health Day, Black History Month, milestone tests, more awards (well done the Art department!), UCAS deadlines, talks, House meetings and sporting fixtures, it looks like things have finally returned to normal. But we mustn't take this for granted. I was fortunate enough to travel to the Baltics last week, and boarding a plane after two years and visiting our colleagues overseas was quite an emotional and overwhelming experience. We have taken travel for granted in the past, especially being a boarding school, and I think we will appreciate travelling and visiting new countries even more so now. Being able to travel and experience new cultures is an education in itself, and it was a pleasure to meet prospective parents and students last week. There is a real appetite for foreign travel and to study in the UK despite Covid and Brexit, which is encouraging.
With the two week half term break, which is new in the College's 90-year history, we continue with our commitment to support our College community's wellbeing. I suspect that this will give much respite to colleagues and students alike and provide an opportunity to possibly travel to see loved ones, now that restrictions have eased further. The break is essential for everyone's wellbeing, as was reflected in today's coffee break at College as we welcomed Fika. This traditional Scandinavian ritual promotes wellbeing through relaxing and connecting with one another over a coffee and pastry. Studies show that creating intentional breaks for staff allows them to decompress, reset, and boost productivity. Intentional connection is a proven antidote to stress and promotes close working relationships, which is part of our DNA here at DLD and something we wanted to bring back after the pandemic to help build those connections further. The morning tutor periods do just that by providing an anchor point for students and staff to reconnect with each other and the wider college community.
I have been impressed at how our students have conducted themselves around College this half term, adapted to the new timetable and continue to observe our values of tolerance, respect, academic curiosity, community and kindness. I trust many will use the break to reconnect with family and loved ones and assess their performance this half term, both in and out of the classroom. I hope they return in November, rested, re-energised, and ready to connect with the challenges that lie before them and, of course, to remain on 'TRACK' in everything they do.
I wish you and your loved ones a peaceful and happy half-term holiday and that you use the time to reconnect with one another – Happy Fika Friday!
Irfan
Irfan Latif, Principal