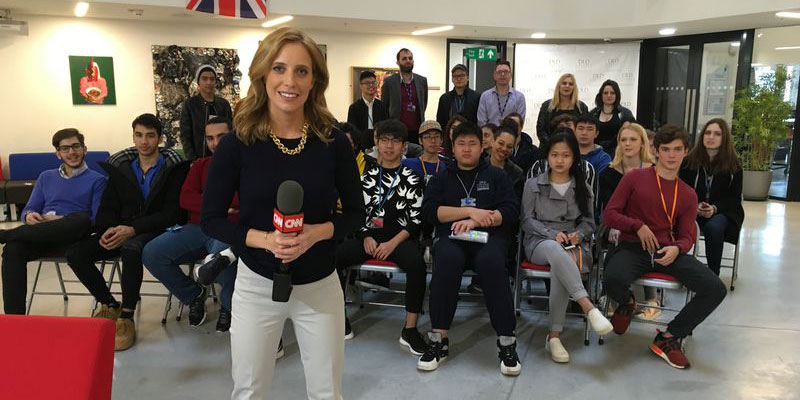 What is freedom? The dictionary states that 'freedom is the power or right to act, speak, or think as one wants. This week we raised awareness of #MyFreedomDay our students took to the stage to perform to millions of people around the world of what freedom meant to them. The occasion was televised by CNN and the students were, as always, impressive on stage as they performed the likes of Coldplay, Oasis and their own personal compositions which reflected the value of freedom.
I hope that at College we allow our students to express themselves in a manner which reflects our ethos and gives them the opportunity to express their views freely in a supportive and respectful environment.
I personally believe that 'Education is our passport to freedom' and will open many doors and provide many opportunities for personal growth and development. Many students articulated their views in the debating competition against Portland Place this week on the controversial topic of gun control – our students were exceptional in debating for the motion. Hot on the heels of the competition that afternoon, we had the GCSE drama performances where the students interpreted scenes from 'Our Country's Good' by Timberlake Wertenbaker and went to see a performance of 'Amadeus' at the National Theatre – a gifted composer who expressed himself through his outstanding music.
Speaking of gifted, we mourned the loss of one of the greatest scientists to have ever lived, Professor Stephen Hawking, who despite suffering from Motor Neuron Disease, had the freedom to express himself and the freedom to think well beyond his limitations. With that freedom came his extraordinary theories on black holes and time; his legacy will continue for eons to come.
The whole College photo (which will be available for you to buy shortly and will serve as a memento of your son's/daughter's time here at College) was a great community event which was enjoyed by all – the weather was very kind to us too! My thanks go to the Archbishop of Canterbury, the Most Reverend Justin Welby, for allowing us the freedom to use Archbishop's Park at Lambeth Palace for the photo, again, our students were a real credit to the College and I thank them for their patience, behaviour and well-mannered attitude.
With tensions growing between the UK and Russia this week, I hope that the respective leaders will talk to one another so as to not compromise our own freedoms in the future.
Best wishes,
Irfan H Latif
Principal