On Thursday, 20th October an outstanding collection of performing arts was showcased during our annual talent show 'DLD Star Search'.
An eclectic mix of singers, musicians and dancers delighted the audience with their incredible abilities in the Atrium.
Following 14 beautiful performances by students and teachers, a poll was created on the College's Facebook page so the audience could vote for their favourite act.
The final decision was tight due to the high calibre of performances but it was GCSE student Jonathan Henreich, who took the title "Best Overall Performance" with his rendition of Hall of Fame, by the Script on the Piano.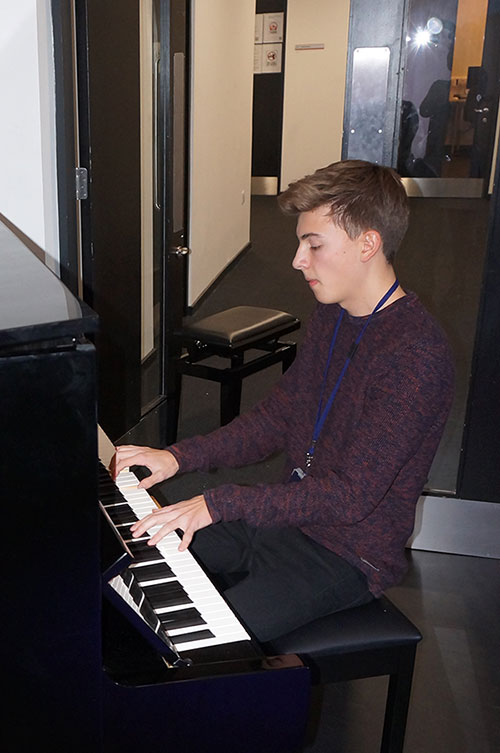 Other prizes went to:
First prize singer – Emina Curic who performed Oro by Jelena Tomasevic
Second prize singer – Alessandra Lato who performed If I Ain't Got You by Alicia Keys
First prize Piano – Cairo Folkes who performed Chopin Piano Concerto No. 2
Second prize Piano – Nicole Hu who performed Jackson Street Blues by Martha Mier
Best performance other than singer / pianist – Hossain Moballeghi who performed Tambour Percussion solo
[shareprints gallery_id="17482″ gallery_type="squares" gallery_position="pos_center" gallery_width="width_100″ image_size="medium" image_padding="8″ theme="dark" image_hover="false" lightbox_type="slide" titles="true" captions="true" descriptions="true" comments="true" sharing="true"]
Peter Hopkins, Head of Creative Arts and Director of Music organised the much-loved event. He commented: "The amount of talent witnessed at this latest show was exceptional. It really was a close call but Jonathan is a very skilled and brilliant pianist who really pleased the crowd with his performance.
"It was another wonderful event held here at DLD and we love to give our students creative outlets such as this event to boost their confidence and showcase the superb talent we have here."