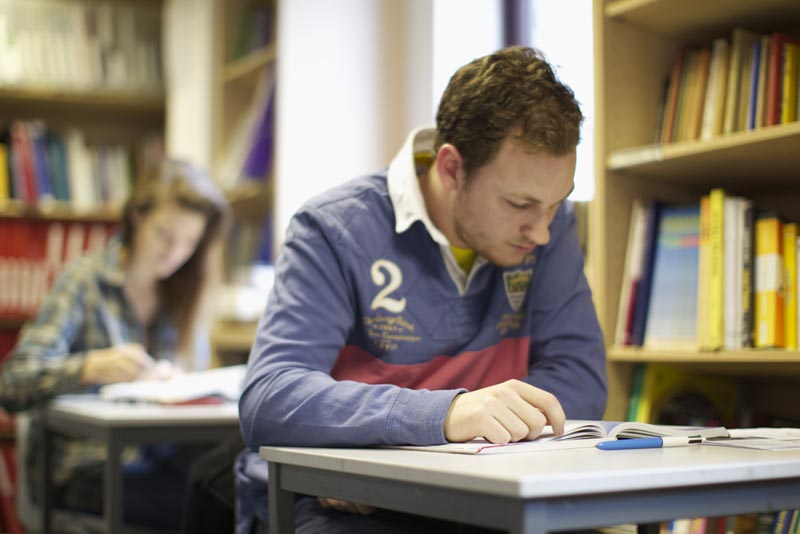 It's your final year of school. A Levels are just round the corner. It's time to start looking at universities. Your UCAS form needs to be filled out. Your personal statement needs to be written. And it feels like there are not enough hours in the day. Don't worry, help is at hand. Here are some handy final year preparation tips to make your last year at school easier and more manageable.
• Stay on top of your work
Do your homework on time, do your coursework when you're supposed to, and read around your subjects. Regularly review your notes from class, updating and reviewing them. If you do this, when it comes to revising them later in the year you'll be so familiar with them revision will be much easier. And if you find something you don't understand, you'll still have plenty of time to ask one of your teachers about it.
Also, it's scientifically proven that we all perform better when we do short, intense bursts of work. If you've been working in short intense bursts all year, you're more likely to have a better knowledge and understanding of your subjects than if you leave everything until you've broken up from college and are on study leave.
It's important that you stay ahead of the game in this final year. You have less time than you think. A year seems like ages, but you will have a lot to do in this year and it will have flown by and before you know it you'll be sitting in those exam halls facing your A Levels. Don't leave anything until the last minute.
• UCAS Form and your personal statement
Speak to you teachers, your parents and your friends about your personal statement. Your personal statement can mean the difference between you getting an offer or an interview and not getting anything at all. We've already published an article on how important it is to have the best possible personal statement, and now is the time to start writing it. You can add to it or take bits out as you go along, improving and refining it all the time. But it's best to get on with this as soon as possible.
• Practise Makes Perfect
Get hold of some past papers and practise answering the questions on them.
When you practise exam questions, time yourself. Be aware of how much you can do in an allotted time. Get into the habit of being able to plan and write your exam answers in the time you will have in your exams. You'll find it so much easier come exam time if you've conditioned yourself in advance.
  While doing practise papers is very good, it's important that you realise that the questions in past exam papers will not necessarily crop up again verbatim. The key is to think about the relationship between the questions and the course in general. There might be topics that regularly show up and there might be topics that rarely show up. The important thing is that you should be able to answer anything that is asked.  
• Get Organised
Studying is a very daunting and difficult task. Most of the time it's not a lot of fun and can in fact be quite frightening. Especially if you have a lot to do, a lot of the time you don't know where to start. The best thing to do is to organise your study time. Make a revision timetable. Divide your study time up into small sessions where you give equal time to your subjects. Make sure you take regular breaks to keep yourself fresh. Sort your room out so it is conducive to studying in. It may seem a little bit unnecessary to think about studying now, with your exams not until the summer, but the sooner you get into an organised routine, the better. You'll find that when it comes to the final push, everything will be easier because you will already know a lot of your stuff, and you'll be a mean, lean, well-oiled studying machine!
• Sacrifice and Dedication
Think about it: all you need to do is knuckle down for a year and have a tiny little bit of discipline and you will be able to change your life. That's not to say you should do nothing else but study…
• Enjoy the Present
It's a tired old cliché, but these really are the best days of your life, and you are only young once! Try and find a happy medium between study and fun. Make time to see your friends and family, and do things you enjoy doing. Rest and relax between study sessions. No one can work all the time and you will burn out long before exam time if you do nothing but stay inside with the curtains drawn and hit the books all the time.
• Work Experience
"But I have to study!" I hear you cry. And you're right, you do. But this is the final chance you will have to get a little bit more experience under your built and have something else to add to your personal statement. You don't have to go and do a menial job if you don't want to, you can get work experience in a field that will help impress a university. If you're planning on doing law, for example, try and get some work experience in a barrister's chambers. Do some charity work or some volunteering. It all looks good on your personal statement, and can help round you into a more interesting person, giving you more self-confidence, and the universities love an interesting, three dimensional person.
• Visit Universities
University Open days start at this time of year and you should go to as many as you can. They should play a very important part of your A Level preparation. They're important, not just to find out about the courses you're going to study, but because you're going to spend three or more years of your life there. You need to know whether or not you're going to like it there. Take a friend and spend a day there. Do the tour and meet lecturers and students, see the facilities, accommodation, student union and soak up the atmosphere. You wouldn't want to do all that hard work, get there, and find out you don't like it!
Good luck!